Home Is Where We Park It:  Suwannee River State Park
Date:  April 28, 2019
Hiking the Park and Learning It's History: Part One
What another beautiful day to wake up to.  Once again moderate temperatures, a clear blue sky, and a whole State Park to explore.  You really didn't think I was going to let a minor injury slow me down?  After all it's my finger and not my leg that is on the lam.  Moreover, it's not my camera finger that is messed up.  Bottom line, time to get out and explore our new neighborhood.
So what is the history of Suwannee River State Park?  Before it was a State Park it was known as Columbus,  Columbus was one of the earliest chartered American communities in Suwannee County; in 1833, the Florida Legislature authorized Paul "M'Cormic" (McCormick) to establish a ferry at the confluence of the Suwannee and Withlacoochee Rivers for five years.  The ferry landing was at the end of the Earthworks Trail, the first trail that I walked.
In the picture below the Withlacoochee is to the left, the Suwannee is to the right.  
I'm taking the picture from what was at one time the spot of the old ferry landing.
The population quickly mushroomed, as there were enough people in the locale for a post office named Columbus to be established there on February 17, 1842.  A visitor to Columbus, writing in the St. Augustine News in late 1843, described the community as having two large stores (with others under construction) and other mercantile establishments that bought cotton from surrounding counties.  The same visitor stated that over 3,000 bales of cotton were shipped in the fall of 1843 from Columbus, with towering piles of cotton still awaiting shipment on the riverbanks. Columbus' population was already some 500 at that time.
The year of 1845 also saw the first known steamboat with a regular run on the Suwannee River, Orpheus, carrying the weekly mail between Cedar Key and Columbus. In 1868, the Suwannee Steamboat Company was chartered with a goal of transferring freight and produce between Clay's Landing and the town of Columbus in Suwannee County.  Eventually, the steamboats ceased to run as business shifted to the railroads.
A left over paddle wheel shaft from a small side paddle wheel vessel.
By 1873, Columbus had dried up as markets shifted and financial depression hit the United States.  All that remains of Columbus today are a cemetery,   That cemetery is at the end of the second trail that I walked, the Sandhill Trail.
  The aged graves clustered here in groups are symbolic of the stories of those who lived and died in Columbus throughout the 1800s. As I wandered among them I noticed generations of families dating back as early as 1805, on headstones almost too weathered to make out.
In the one graveyard I found the entire Canon family, father, mother and baby Canon.
Between the beginning of the trail and the graveyards you cross the Old Stagecoach road.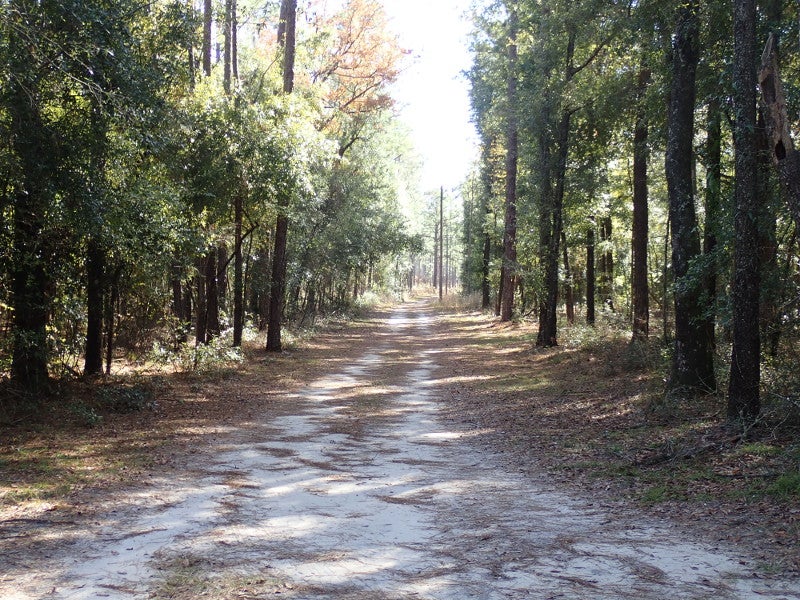 This is a once vital passageway that enabled supplies and people to get to the now -forgotten town of Columbus. In the 1800s, this track was well-travelled by stagecoaches, covered wagons, horse-drawn carriages and people on horseback and foot.   Standing on the road you could almost hear the creak of wagons, the sound of horses hoofs, and the footsteps of travelers going to and fro.
We come to present day Suwannee River State Park.
Suwannee River was among the first parks to become part of the Florida State Park system. An original 300 acres was purchased in 1936. The park now has more than 1800 acres in three counties: Suwannee, Madison, and Hamilton.  It has six trails, two of which we have already walked.  It is part of the Suwannee River Wilderness Trail and the Florida National Scenic Trail.
Before we go further,  time out for family.  My son Paul and his wife Brittany were returning home to Ohio from a convention they attended in Miami and were coming up Route 75.  My son wanted to meet for supper and I was thrilled that we could.  Just think, if I had not injured my finger we would no longer be in this area and we would have missed them.  Funny isn't it how some things work out.  This is the four of us at Beef O'Bradys
we had a delightful evening of family, food and fellowship.  Hopefully, we will get to see them again this summer.
There is more to share regarding the park, more discoveries, and more pictures of wonderful places.  All of this coming up tomorrow so stay tuned.
Once again we had a wonderful and full day on The Road Of Retirement.  I'm thrilled I'm now able to do some hiking.  Next park I might even try renting a canoe.  Time with my son and his wife rates right up there with one of the highlights of the day.  Days like this are just so special and never taken lightly.  Thank you good Lord for this day.
Thanks for coming along with us we always enjoy your company.  Till tomorrow, have a good night.
These are the voyages of  Graybeard and it's occupants, four paws and two humans.  Our continuing mission: to explore as many new states as possible, to seek out new acquaintances and make new friends, to boldly go where we have not been before
See you on down the road