Home Is Where We Park It:  Bailey's Point COE, Glasgow, Kentucky
June 21, 2019
Temperature 78 degrees
Travel Day
Travel Day today.  We're moving north toward Bowling Green, Kentucky.  Our sole purpose for moving there is to visit and tour the National Corvette Museum.  Then we'll pack up and move north to Lexington, Kentucky in order to visit the Ark.
The morning dawned clear, hot and humid.  Frankly, we were in no rush to get up and get going.  The last two days have left us with no energy and with just a desire to sit and vegetate.  Be that as it may we had to go.
We took our time packing up what few things we had left to put away.  Them a simple breakfast of cereal and coffee.  Time now for slides in and jacks up.  This was the moment of truth, after the last time when the front slide got stuck what was going to happen.  Wew, both front and back came in without an issue.
On the road and within a few minutes we were zipping along on I 65 north.  Once again it was over hill and dale.  I'm constantly amazed at the amount of power the V 10 has.  It's no diesel but it's no slouch climbing hills.  Even with the AC on.
It looked like this was going to be an easy two to three hour drive.  Should have known better than to count my chickens before they hatch.  Just like that we came to a halt.  Not a car was moving.  Nothing.  It was a six mile crawl.  Then just like that it opened up and we were on our way again.  Never was able to figure out what caused the backup.
The fun wasn't over, though, not by a long shot.  We left the highway and that is when things began to get real interesting.  We were now on rural back roads leading to the campground and they had to be some of the worse I've been on.  Narrow, no shoulder, blind corners and hills.  I felt sorry for the line of cars behind me but there was no where to pull over.
The worse was yet to come.  I finally found the sign indicating the campground entrance but the roads within were just as bad.  Narrow, some with a sheer drop off to the right to the lake and not much room to move to the left.   Not to mention all the overhanging trees.  None of this was mentioned in any of the reviews I read.  Rather, all had glowing words of praise for this campground. Not to mention the fact that the campground is full of big rigs everywhere.You can be sure, though,  I'll mention the roads, the hills, the trees in my review.
This is a stock map of the campground.  It is large.  We are in loop A, site #15.  The A loop is all the way over to the right and site #15 is about half way down the right side of the loop.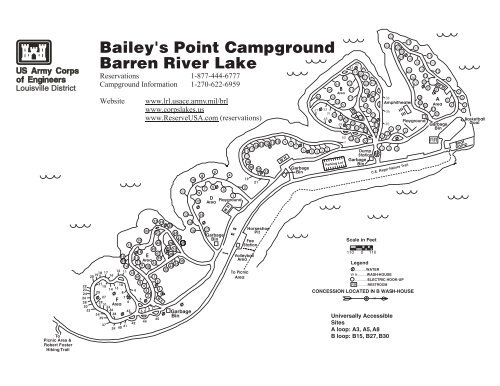 Unfortunately, I'm unable to upload any pictures tonight.  The internet is that bad in this campground.  Our site, though, is a nice one.  It is a back in, perfectly level, has 50 amp and water but no sewer.  There is good site separation.  It is completely shaded yet I was able to find one hole in the trees and so was able to get Gertrude locked on to a satellite.   We need that Hallmark.  And American Ninja Warriors is on tonight.  A must watch.
So we're settled in for the next few days.  As of now we're rocking and rolling even with the jacks down because of a severe storm passing through the area.  I've never before felt Graybeard rock like this with the jacks down.  Interesting.  We even had a tornado on the ground about thirty miles south of us.  Update, thirty minutes later and all is calm again.  I hope this is the end of this storm for the night.  The funny thing – Gertrude never lost her signal!  I will say this is the first time we both had a bit of a concern during this storm.
These are the voyages of  Graybeard and it's occupants, four paws and two humans.  Our continuing mission: to explore as many new states as possible, to seek out new acquaintances and make new friends, to boldly go where we have not been before
See you on down the road!