Home Is Where We Park It:  Whispering Hills RV Park, Georgetown, KY
June 25, 2019
Temperature 84 degrees
Toyota Factory Tour
Time for our first sightseeing tour.  Today would be the Toyota Factory Tour which is just ten minutes from our home.
I'll be sharing both pictures that I took and some stock pictures from off the internet.  They don't want you taking any pictures in the factory.  When asked why they simply say Out of respect for the privacy of our team members.  OK.
The tour was at 9:30 am so we were up and at it rather early by our standards.  A left, another left, another left turn, then a right turn and we were there.
Some quick facts about this facility:
it is the largest vehicle assembly plant in Toyota's global production network.  It is the size of 169 foot ball fields
the plant began production in May 1988 building the 4-cylinder Toyota Camry. 
This is the first Camry that came off the production line
this is a time line of what has occurred at this plant.
it takes on average 20 to 22 hours to produce each car.  Each car has also been ordered before they begin to build it.
on average a car rolls off the assembly line every minute or less
the plant is a city onto itself, they have doctors on call 7/24, a business center, a physical fitness center, several cafeterias, athletic fields, hiking trails and so much more I can't remember it all
starting hourly wage is $18 per hour.  But less one thinks they can simply walk in, apply, be hired and begin to work on the line, think again. 
there is one team leader per every five team members.  The team leader will step in for a team member whenever necessary, for instance if someone calls in sick, someone needs to go to the bathroom, or whatever
each team member rotates tasks every two hours, meaning they do four completely different tasks on the line each day
all of the waste produced on-site is either recycled or reused and nothing is sent to landfills.
The grounds also sports a very large vegetable garden. In 2005, the produce produced at this facility helped a nearby charitable organization, God's Pantry, distribute 2.5 million pounds of produce
the garden also produces a full crop of pumpkins used at the Toyota Child Development Center for carving at Halloween, and corn which enhances the compost pile
the Toyota Camry, the Avalon Sedan as well as the Lexus ES are produced at this plant
next year this plant has been chosen to produce the Hybrid RAV 4
Come on, let's take a tour.  This is horse country of course and this is what you see as you approach the Visitor Center Entrance.
The Visitor Center entrance.
The Registration Desk.
There is a small display in the lobby about Toyota Racing.
Now, for the plant itself.  The nice thing about this tour is you are on a tram for the full hour plus of the tour.  Of course the following pictures are stock pictures from the internet but they will give you some idea of what we saw.
This is how each car begins.  Raw rolls of steel delivered daily by train.  Some of these rolls weight upwards of twenty tons.  The raw material is then taken to a stamping station and robots stamp out the necessary parts for the cars.
This is a team member on what is called the floating chair which allows them to float inside the car to complete the task assigned to them.  In addition, at every station the height needed to complete the task has been carefully calculated and the height of the car on the line is adjusted so that no one ever needs to squat or stretch to do what has been assigned to them.
A GPS guided robot that moves parts around the plant.
The engine being married to the car.  In essence the engine is part of a sub assembly that is lifted as a whole into the car and then two workers bolt it into place.  The whole process takes less than a minute to complete.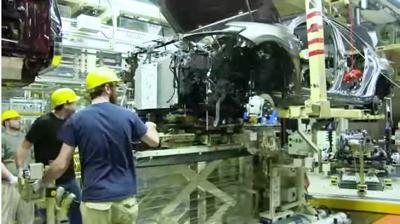 The line itself.
Quality control check at the end of the line.
That is but a very small part of what we saw.  It was fascinating to watch the various robots stamp, weld, move parts around the plant.  It was equally fascinating to watch various team members efficiently complete the task assigned to them.  It was also amazing at how friendly everyone was.  Everywhere we went individuals took the time to smile and wave at us.  If you are ever in this area I encourage you to take the time to take the tour.  You will not regret it.
By now it was lunch time but where to go.  Guess what we discovered?  A place we first went to with our friends Steve and Patti from Wisconsin.
What a menu.
Lunch is served.  Barbara had a Reuben and I had the Fish.  We also tried the Cheese Curds and discovered we really like them.
That was our day on The Road of Retirement.  The weather was great, sunny, partly cloudy, temperature in the mid 80's but oh is the humidity coming back.  Once again we were able to cross another item off our bucket list.  Once again we did it our way traveling down the road, hand in hand, singing our song.  More to come in the next few days before we leave.  Stay tuned and we'll begin our travels to you.
These are the voyages of  Graybeard and it's occupants, four paws and two humans.  Our continuing mission: to explore as many new states as possible, to seek out new acquaintances and make new friends, to boldly go where we have not been before
See you on down the road!