Places We Have Called Home In 2019
Home Is Where We Park It:  Boondockers Welcome, Tom's Back Yard, Helena, Ohio
July 30, 2019
Temperature 86 Degrees
Armstrong Air and Space Museum
Talk about a disorganized pair.  That was us today.  We were up early because we were going to visit my son Paul and his wife Brittany.  Then the four of us were going sightseeing.  Maybe it was the early hour.  Maybe we're getting old (nah, not really!)  Whatever.  We left our home right on time only to get two miles down the road when I realized, somehow, I had walked out without the camera.  Back home we went.  Camera in hand we left again.
Wait, it get's better!  Low on gas we rolled into the first available gas station which was about ten miles from home.  That's when I heard Barbara say I can't find my pocketbook.  It of course contained all our credit cards.  Now what?  Thankfully, we had our laundry quarters in the back which would give us enough gas for the time being.  Guess what?  Right after we used them Barbara said Guess what I found on the floor halfway under my seat?  Yep, her pocketbook!
I guess that's what happens when you only drink decaf coffee in the morning!
That behind us we resumed our journey and finally arrived at Paul's house just a wee bit late.  Sightseeing time.  But first another stop so Paul could get gas for his car and the four of us could get breakfast.
With all of that behind us we were off.  A short time later we arrived at our destination.
Paul had suggested this when he heard we were going to be in the area and I'm so glad that he did.  Another fantastic museum to visit with new things to be discovered and learned.
Let's go exploring time is awasting.
This is Paul and Brittany just outside the entrance to the museum.
Here they are with the young teenager Armstrong.
This is the walkway leading to the museum entrance.  Yup, that's Barbara leading the charge.
Just prior to entering there is a plaque explaining the purpose of the museum.
Further information regarding the purpose of the museum and how it came to be was just inside the door.
As you enter the museum on the one wall is the Hall of Fame, a list of all astronauts from the state of Ohio and their space achievements.  A rather impressive list for sure.
Perhaps the state's most famous and the museum's honored astronaut.
Let's take a closer look at his life and achievements.
Here is a picture of him at the age of three.  To the left is a picture of his grandparents farm in Wapakoneta  where his parents raised him.
Here he is at the age of six making his first flight with his father.
A young boy with a very real interest in aviation.  Come on now, getting your pilot's license before your driver's license.
This is the plane that he learned to fly in.
He would go on to earn an aeronautical engineering degree from Prudue University, went to work at NASA's Lewis Laboratory in Cleveland, and became a top test pilot at Edwards Air Force Base.
Outside on display was the Skylancer.
Seeking additional astronauts, NASA changed it's selection criteria by lowering the age limit to 35 and raising the height limit to six feet.  In 1962 Armstrong became one of the first two civilians chosen in the second group of astronauts.
We all know of Armstrong's achievements regarding Apolo 11.  He was the first man to walk on the moon.  Before that famous day, though, there were his achievements in the Gemini program.
The goals of the Gemini program were quite simple.
Armstrong was chosen as the commander of Gemini VIII.  He would be the first astronaut to dock his Gemini capsule with a target vehicle in space.  However, it turned out to be one wild ride.
The Gemini VIII capsule.
Take a close look now at the inside and think about this – everything, yes everything they did had to be done in the seated position in the capsule.  Forget about any privacy!  Moreover, sometimes the astronauts where in these capsules for up to two weeks at a time.  And I thought that a 36 ft RV was small!
Here is Armstrong's Gemini spacesuit on display.
By the end of the tenth Gemini mission NASA was ready with the Apollo program.
When the time came for the Apollo 11 mission Armstrong, Aldrin, and Collins were the next astronauts in rotation so it would be their mission.  Armstrong was chosen as the commander of the mission.
Since in a past blog we've already covered the Apollo 11 mission no need to do it again.  Let me, though, share with you a few new things I discovered today.
Armstrong's space suit from that Apollo mission.
The landing sites on the moon for the various Apollo missions.
Yes, Apollo 13 is missing because it's mission had to be aborted.
Tools that were used to collect samples from the moon's surface.
Speaking of samples, did you know that when the Apollo 11 Astronauts returned and were being held in quarantine they were asked to fill out a customs form?  This historic customs form is signed by all three Apollo 11 astronauts: Neil Armstrong, Buzz Aldrin, and Michael Collins. They declared their cargo of moon rocks and moon dust, and listed their travel route as starting at Cape Kennedy (now Cape Canaveral) in Florida with a stopover on the moon. The customs form was filed at the Honolulu Airport in Hawaii on July 24, 1969.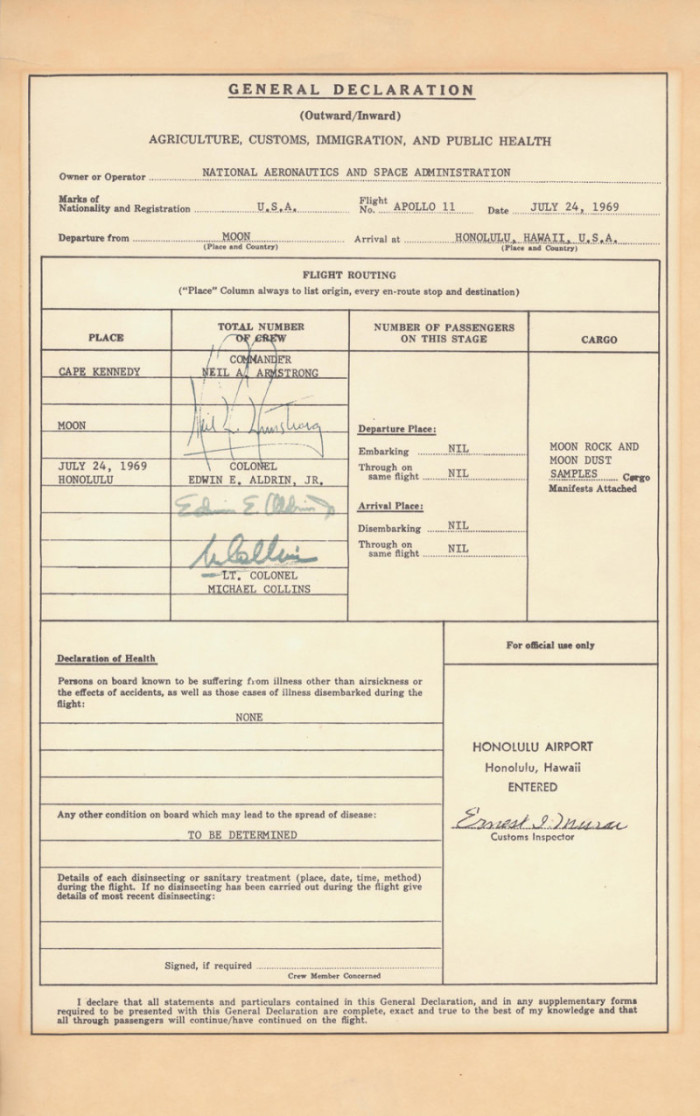 Apollo 15 was the first extended exploration mission and the first time the lunar rover was used.
Apollo 17 was the first mission to use duct tape on the moon – to repair a broken fender on the lunar rover!
Moving on, on the way to the exit there was an art exhibit with some really beautiful and meaningful works.  Take a look
Leaving the museum there was one more exhibit to view.
The Gemini capsule was open so one could climb in.  Of course Paul and I tried it first.  Talk about tight quarters – I would not want to spend two weeks, nor a day sitting in a seat like this!
Paul and Brittany were next.
There was also a monument to those who sacrificed their lives in the pursuit of space exploration:  Apollo 1, Challenger and Columbia
 That was our day at the museum.  But the day wasn't over just yet.  We had to have lunch.  Paul had a great place in mind and so this is where we went.
Talk about a colorful place.  This is a picture of a bullet hole in the ceiling.  Seems two guys got in a fight over a woman, words turned to bullets.  The outcome?  No one can seem to remember!
Some other scenes from inside.  A picture of the town of Findlay from the late '50's
A few more.
Yes, the food was delicious.  Three of us became members of the clean plate club.  One left some of her lunch for me to sample tomorrow.  I would go back here in a heartbeat.
That was our day on The Road of Retirement.  A fantastic day spent with Paul and Brittany.  I'm so very glad we had this time together.  It was also a day of new discoveries and new things learned.  Taken all together it was a banner day.  Really, when you come right down to it what's more important than time with family.  Thank you Lord for this day full of precious memories.
Thank you one and all for coming along with us.  We always enjoy your company and your comments.  Have a good night, catch you tomorrow.
These are the voyages of  Graybeard and it's two human soul mates.  Our continuing mission: to explore as many new states as possible, to seek out new acquaintances and make new friends, to boldly go where we have not been before
See you on down the road!