Places We Have Called Home In 2019
Home Is Where We Park It:   Tucson Metropolitan Ministries Family Services
Oct 11, 2019
Temperature 96 degrees
Travel Day
2 am in the morning I shot out of bed like a bullet out of a rifle.  What in the world just slammed into us?  I grabbed a flashlight, slipped on a sweatshirt, opened the door, if I had not had a tight grip on it, it would have been ripped out of my hands.
The wind was howling, and I mean howling.  I walked all around and nothing.  I went back in and then I realized what was making all the racket, the slide topper on the bedroom slide and the two vent covers.  Not to mention even with jacks down we were rocking every time a huge gust of wind hit us.
I checked my phone for weather alerts and there it was:  wind alert, 25 to 35 mph, gusting to 40 mph plus until Friday morning at 10 am.  Just great.  Nothing to do but try and get some sleep since we were due to move out on Friday morning.
Come Friday morning and conditions were just as bad.  There was no way I was going to attempt driving in these conditions.  We'll just have to wait it out.  Around 9 am things began to calm down.  Time to give it a try.
Our first stop was for propane at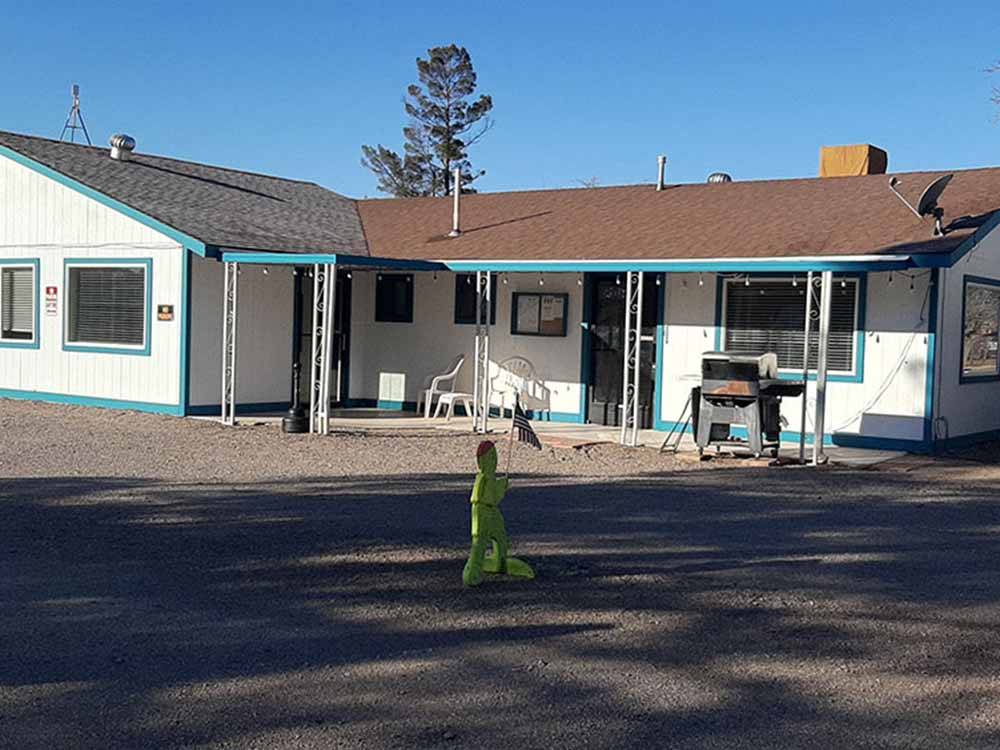 Tanked topped off it was time to try Route 10.  Within a few minutes and we were on the road
Thankfully, the wind had almost completely died down and so driving was not a problem.  The road was in good condition, traffic was light, and so we rolled on.
Hey, look what we found – our train!  The tracks ran alongside Route 10 for miles so we got to see more than one.  These are the same tracks and the same train that pass the Escapees Park.
Next stop was for fuel.  I picked this stop because they had dedicated RV fuel lanes.  It makes life at the pumps so much easier.  Fuel tank topped off, and a cinnamon roll for each of us and we were back rolling again.
Of course we couldn't leave this area without a few more pictures of the mountains that had surrounded us for the last four weeks.
Here's one for you, can you see the face in the mountain?
Under the heading of silly signs.  Really?  Bike riders on Route 10.  I guess anything is possible in these parts.
In due time we saw a most welcome sign.  A new state to add to our state map.  We're adding them one by one.
This sign, though, was not so welcomed by either of us.  It was a warning for high winds and dust storms.  The latter we encountered once or twice but not so severe that we had to stop.
Now what is one to do if they do encounter a severe wind or dust storm?
Now I know.
A little further down the road we found this most interesting rock.  Look close, it's called Fraggle Rock.  Remember this group? They were a fun-loving group of furry subterranean creatures  – Red, Gobo, Wembley, Boober, Mokey and Uncle Travelling Matt – that encouraged and emphasized diversity among all.
This wasn't the only interesting part of this trip.  We had been to City Of The Rocks but when we pulled into this rest area we though we had taken a wrong turn and were right back there again.
Take a look.
Of course no trip in this part of the country would be complete without a mountain to go over.   Like these
So up we go
and as we all know what goes up has to eventually go down.  That is Benson, AZ off in the distance.
We also saw more than mountains, and dust storms, and rocks.  Barbara was able to take pictures of a pecan grove alongside the road.  Pecans are big in this part of the country.
She was also able to take some pictures of art on various overpasses that we came to
Once we entered Tucson we stopped one more time for fuel.  Dedicated RV fuel lanes here also.  Whenever Graybeard is going to sit idle for a few weeks or more I always try to have the tank as full as possible and I add Stabill to the tank as well.  A plus at this stop is the Subway subs we snagged for lunch.
Coming out of the station Barbara finally saw the cactus she had been on the hunt for since we arrived in this part of the country.
Time now to find our new home.  Here it is.  There are two forty foot rigs off to the left.  Would you believe we have one more rig to get in here?  Its a TT and it is supposed to go on my passenger side.  This is going to be most interesting tomorrow.  Can't complain, we have FHU, 50 amp, and it was easy to get level.  A big bonus, the sun is not on the refrigerator side.  Yippee!  Home for the next three weeks.
That was our day on The Road of Retirement.  It started off with the strongest winds we had witnessed to date in this part of the country.  Winds which thankfully died down once we were on the road.  The trip was an easy and uneventful one.  Route 10 for the most part is in good condition.  We had no issues finding our new home.  We are now settled in for the duration.  Life is good.
Thanks for coming along with us today.  We always enjoy your company and your comments.  Catch you tomorrow.
These are the voyages of  Graybeard and it's two intrepid travelers.  Our continuing mission: to explore as many new states as possible, to seek out new acquaintances and make new friends, to boldly go where we have never been before
See you on down the road!