Places We Have Called Home in 2019
Home Is Where We Park It:   UMOM New Day Centers, Phoenix 
Dec 21, 2019
Temperature 71 Degrees
Another Couple Had to Leave
Graybeard Projects
The Nutcracker, Ballet Arizona
We received an urgent text message when we got home last night from Steve and Jean – please stop and see us when you return.  So we walked on over to their rig and discovered that they were leaving the following day – not next Friday.
Jean's surgery wound has opened up again.  She wants to get home to her own doctor.  Steve is feeling just good enough to drive.  The weather heading back to Minnesota looks good for the next three days.  Time to go.  Their kids purchased a home for them this past summer so that is where they are heading.  Their kids, I wonder if any of mine are reading this.  Highly doubt it.  LOL.
Now there are only two rigs still left, ours and Bob's.  He can't go because he put unleaded in his truck instead of diesel.  However, he is nervous and anxious.  His mother had a minor heart attack a few days ago and he desperately wants to get to her.  Hopefully his truck will be ready by the end of next week.
I decided to tackle one project on the Graybeard list of Projects.  I wanted to get the last blind up, the small one in the bedroom.  Tools in hand I went to work.
Off came the old blind and valence.
Up went the new 1 inch slat blind and valence.  Now, all the old string blinds are gone.
Two more projects to tackle:  replace the bathroom sink faucet; and, replace the water supply valve on the toilet.  Not today, though.  We had an afternoon appointment.
I decided to give my sweetheart an early Christmas present.  Something she has been wanting to go to for a long, long time.  Something she figured I would never go to in a million years.  Did I shock her!
It was presented by Ballet Arizona.  Ballet Arizona is a professional ballet company directed by Ib Anderson.  The company was created in 1986 by a merger of three smaller Arizonan dance companies that were struggling to survive.  Today, the company of thirty-one dancers occupies a prominent place in American ballet.
It was presented at Symphony Hall.   The hall is home to the Phoenix Symphony, Ballet Arizona and Arizona Opera.  It is also the site for Broadway touring companies, a variety of dance productions, and appearances by popular entertainers.
The Ballet Company was accompanied by the Phoenix Symphony.  Founded in 1947 when Phoenix had a population of less than 100,000, the orchestra began as an occasional group of musicians performing a handful of concerts each year. Today, the orchestra appears before 300,000 subscribers, ticket holders, and music enthusiasts each year, offering 275 concerts and presentations in an annual season running from September to May.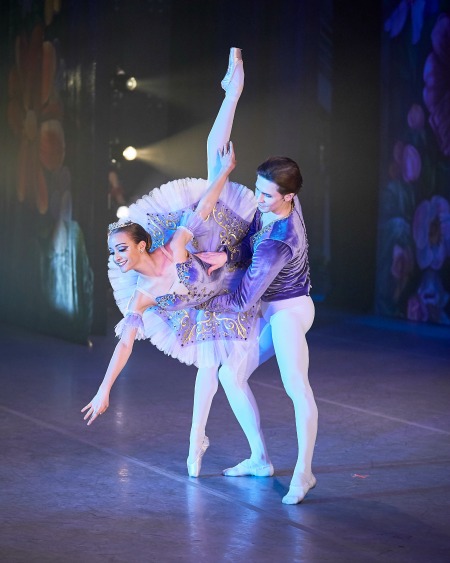 The Nutcracker is the magical tale of Clara, the Nutcracker, the Rat King, the Sugar Plum Fairy and other delightful dancing characters.  With 150 performers, 100,000 Swarovski crystals, and Tchaikovsky's cherished score performed live, Ballet Arizona's The Nutcracker was a winner in our book.  The few pictures I've been able to post, the words written really do not do the performance justice.  You have to be there.  Maybe some day you can.
I am so glad I was able to fulfill a long time wish of my sweetheart.  She – and yes me too – was enthralled with the performance.  How fortunate we were to be able to witness this stirring performance of an annual Phoenix tradition.
That was our day on The Road of Retirement.  It was with heavy hearts that we bid goodbye to two new and very dear friends.  One Graybeard project is in the books.  We were able to enjoy a great performance of the Nutcracker.  Life is good.  Thank you Lord for this day that you gave to us.
Thanks for joining us again as we traveled along hand in hand.  We only wish you could have actually been at the ballet with us.  It was awesome.  Catch you tomorrow.
These are the voyages of  Graybeard and it's two intrepid travelers.  Our continuing mission: to explore as many new states as possible, to seek out new acquaintances and make new friends, to boldly go where we have never been before
See you on down the road!