Places We Have Called Home In 2020
Home Is Where We Park It – Escapees North Ranch, Congress, Arizona
April 22, 2020
Temperature 89 Degrees
If The Bear Can Go Over The Mountain, Well I Guess We Can Too
The Joshua Tree
Burro Creek, True Social Isolation
Cabin fever hit in a big way today and we knew we had to do something.  But what?  How about going for a ride?  Excellent Idea!
Since we had mail at the Post Office we figured we would kill two birds with one stone.  We would, first, go to the Post Office.
Next, knowing we would be going to
Kingman when we left here we decided to take a run part way up Route 93 to get a feel for the road.
What's that old song?  The Bear went over the mountain and what do you think he saw, he saw another mountain . . .running Route 93 definitely brought that song to mind.  It started out easy enough but then came that first thirteen mile stretch
where we started to climb,
and continued to climb,
and just kept going up.
Of course what goes up must come down,
and down,
and down some more.  Just when you think the worse is behind you, off in the distance you can see the road going up and over yet another mountain!  But darn it if that old bear could go up over each and every mountain I'm sure we can too.  Thankfully, the road is in good condition, the lanes are wide and smooth, there are wide shoulders should you need to pull off, and there are also pull off's all along the way.
We also discovered that Route 93 had another name
which is Joshua Forest Parkway of Arizona.  
It get's this name from the Joshua Tree's that line part of the roadway.  A little internet investigation reveals the following:   The Joshua tree was named by Mormon settlers who crossed the Mojave Desert in the mid-1800s, the tree's unusual shape reminded them of the Bible story in which Joshua reaches his hands up to the sky in prayer. … They used the leaves from the trees to make woven baskets, sandals, and other useful items, and ate the seeds and flower buds.
Today, the Joshua Tree which thrives in harsh, arid environments is viewed as a symbol of faith and hope in the midst of adverse and challenging times.  A fitting symbol for us today.
Running another section of the road we were reminded of City of Rocks National Park.
I'm always left wondering How did that one last rock get up there?
Like some giant kid piled all his rocks in one place.
Halfway to Kingman we discovered Burro Creek Campground.  A quick internet search tells us that:  The Burro Creek Recreation Site is situated along Burro Creek within a very scenic Sonoran Desert canyon at an elevation of 1,960 feet. This peaceful area has long been a favorite stop of travelers on nearby Highway 93.  In addition we discover that:  The recreation site features a campground, picnic area, and desert garden containing a large variety of native cacti. A large area of scenic wildlands are located upstream, providing day hiking and backpacking opportunities.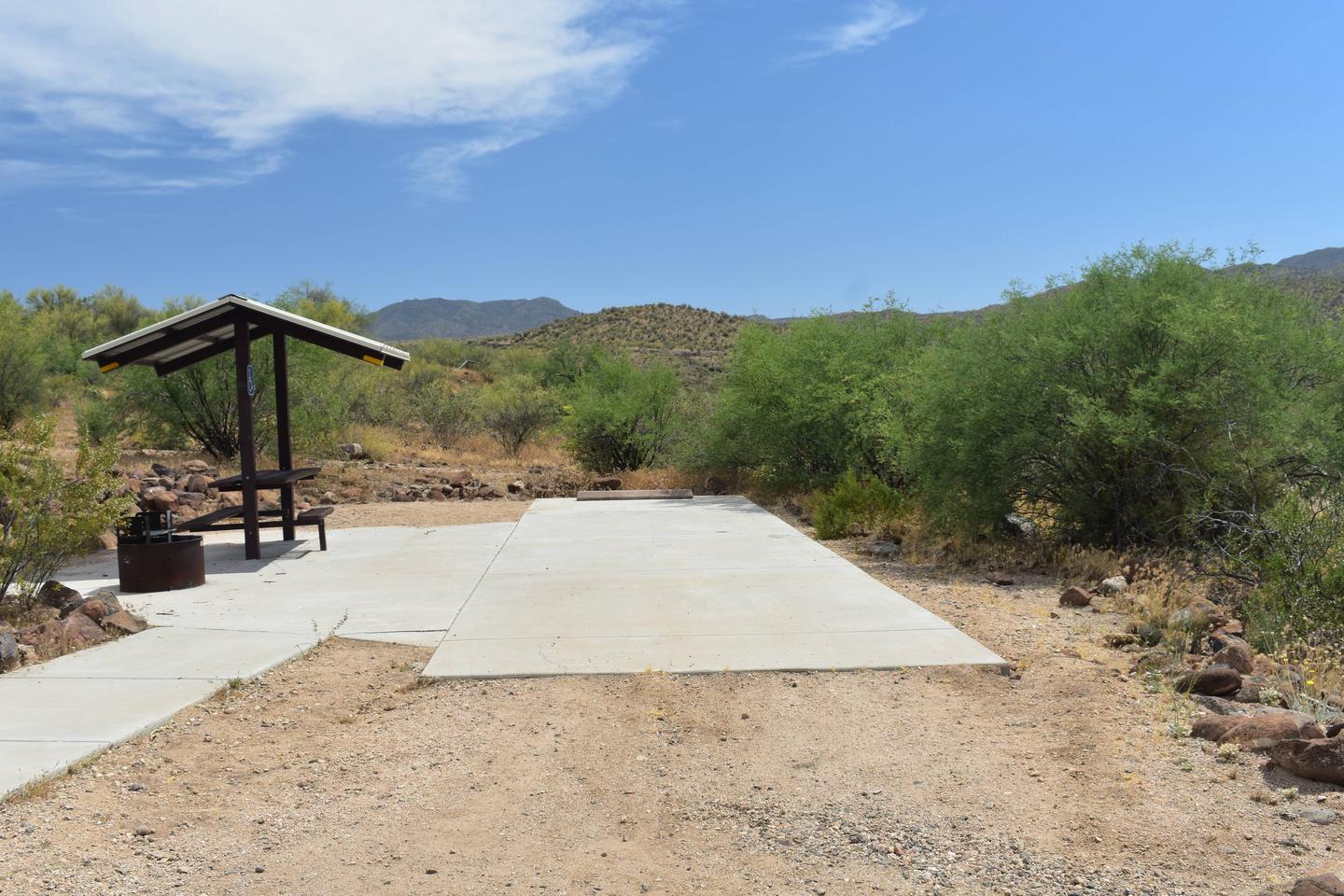 No hookups here.  But at least a nice concrete pad to park on.
The only occupant of the campground that we saw.  This is what I would call practicing extreme social distancing!  I believe it is safe to say he is way more than six feet from anyone else.
That was our day on The Road of Retirement.  Starting today the heat is beginning to crank up.  Yet, we still haven't had the desire to run the A/C.  There is always a nice breeze blowing through Elvira so we are cool and comfortable.  Time to wrap things up and go get my PJ's.
Food for thought.
Thanks everyone for coming along with us today.  We always enjoy your company and love reading your comments and suggestions.  Keep safe, stand six feet apart, wear a mask, and remember to wash, wash, wash those hands.
These are the voyages of  Elvira and it's two intrepid travelers.  Our continuing mission: to explore as many new states as possible, to seek out new acquaintances and make new friends, to boldly go where we have never been before.
See you on down the road!