Places We Have Called Home In 2020
Home Is Where We Park It – Escapees North Ranch, Congress, Arizona
May 4, 2020
Temperature 91 Degrees
Foraging For Food, Hopefully The Last Time Before We Leave
An Easy, Relaxing Day
-The Last Time Before We Leave-
How sweet those words sound to my ears.  But will we be able to stay out on the road?  That is a question that still needs to be answered and which will probably be answered by what happens in the month of June.  If what they're predicting comes true we may be once again ordered to stay at home.  In which case we'll find an Escapee park to hunker down in.
I spent this morning cancelling previous reservations and making new ones.  The park owners I talked to by and large have no idea what to expect this summer.  They have no idea whether they will be overrun with campers or run out of business because the virus comes back.  I definitely feel for them as I do all small business owners throughout this great country of ours.
We know now that we will definitely be trying to get back to Florida for the winter.  The reason being that Barbara set up her appointment with the orthopedic surgeon this morning regarding the possible replacement of at least one of her knees.  Of course this could all change in a heartbeat and we could find ourselves spending our winter back here in the Southwest.   But as of now, it's Florida here we come.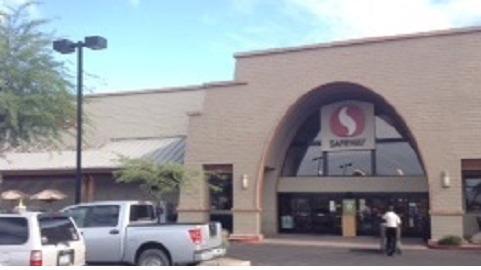 This afternoon we went foraging for food we hope for the last time before we leave.  We went to the Safeway in Wickenburg.  If there is a shortage of meat, toilet paper, or whatever in other supermarkets you would never know it by shopping here.  Granted, some items are selling for a premium price but they have whatever one needs.  In addition if you love sea food this is the place for you.  I could spend hundreds of dollars on what they have.  Their seafood case lacks for nothing.  You name it and they have it.
We purchased what we needed with a few extra goodies thrown in for good measure.
Look what I found!  I haven't seen a case of Sam Adams in I don't know how long.  I grabbed a case and when Barbara said take another I wasn't about to argue. 
Barbara was also able to get one of her favorite wines.  So we both came home winners.
That's about it for our day on The Road of Retirement.  We came back home, had supper and then just sat back and relaxed.  Sitting back and relaxing comes to an end for me tomorrow.  I have a number of projects I have to complete before we leave and time is now short.  I'll work a couple of hours each day and I'll get them done.  Ah, life is good.  Sometimes I feel so guilty just saying that knowing what so many others are going through and the untold suffering being experienced by countless individuals.  I've said it before but it bears repeating we are two of the most blessed and fortunate people alive.  Thank you Lord for the daily blessings we receive.
On the lighter side.
Thanks for coming along with us today.  We always appreciate your company and your comments.  Keep safe.  Wear a mask – Not for yourself but for others.  Remember six feet.  Wash your hands.  Till tomorrow.
These are the voyages of  Elvira and it's two intrepid travelers.  Our continuing mission: to explore as many new states as possible, to seek out new acquaintances and make new friends, to boldly go where we have never been before.
See you on down the road!