Places We Have Called Home In 2020
(We've Added A New Stop To Our Link)
Home Is Where We Park It:  Escapees Rainbow Plantation, Sumerdale, Alabama
August 15, 2020
Temperature 79 Degrees With Humidity Feels Like 83
Travel Day
The new mirror is on and it is time to be on our way.   Once again we were in no rush to get out since our drive time was just three hours plus.  Our kind of trip.
We took our time this morning, packed up the remainder of our stuff, disconnected water and electric, pulled the slides in, and raised the jacks and were on the road by 9:30 am.
Soon enough we saw
and we continued to roll.
Then we saw
and we knew we were almost home.
The trip was an easy one with smooth roads and no construction delays and very little traffic.  The forecast called for scattered thunderstorms but other than a brief sun shower the rain was always just in front of us.
There, unfortunately, was one major accident but it was on the other side.  It resulted in Route 10 being completely shut down with a back up of probably a good five or six miles.
Then there was our fuel stop.  We usually try to stop at a Loves Travel Stop because of the discount card we have.  Imagine our surprise when we pulled in and discovered they were completely out of gas and diesel.  Thankfully, there was a Speedway right across the street and they also we discovered accept our fuel discount card.
After our fuel stop it was a very short hop to a place we know well.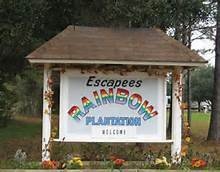 This is our second time here and it is one of our favorite Escapees Parks.
Our new home.  It is grass, reasonably level, FHU, and partially shaded.  Our DISH antenna has a clear view of the southern sky so we're able to pull in all of the western arch satellites.
This is the look up and down our block.  There are a few other rigs here but not many since this is not high season.  That is fine by us.
This is the green space behind our site.  We really love this park and this whole area.  We have a few favorite restaurants in the area that we'll probably visit if they are open.  Unfortunately, other attractions we would normally visit while in this area we already know are closed.
We're settled in.  I have the outside completely set up. What with the humidity it doesn't take long working outside before you are drenched in sweat and a bit ripe!  So I rewarded myself with a nice, long hot shower.  Why, I even shaved.  I feel great.
That was our day on The Road of Retirement.  Things once again seem to be looking up.  Why, even our patio awning which has been dead for the last several days is working again.  However, its days are numbered.  We'll either replace it here or later in Florida.  Ah yes, life is good.
Thanks for traveling with us today.  We always appreciate your company and your comments.  Catch you tomorrow.
These are the voyages of  Elvira and her two intrepid travelers.  Our continuing mission: to explore as many new states as possible, to seek out new acquaintances and make new friends, to boldly go where we have never been before.
See you on down the road!