Places We Have Called Home In 2020
Home Is Where We Park It:  Silver Springs State Park Campground, Ocala, Florida
September 25, 2020
Temperature 90 Degrees
Fantastic Friday
Our Garden Is In Bloom
Ms. Barbara Will Have Her New Knees
Moving Out On Sunday
Cracker Village
What a fantastic Friday we awoke to.  Just look at that beautiful blue sky.  How can one not be excited about the day before them when the sky is like that.
Not to mention our garden is in full bloom.  Isn't it beautiful?  The really nice thing is I didn't have to plant these beautiful flowers, nor cultivate them, nor drag multiple bags of mulch to spread around them.  I simply let God do all the work and I have to say He did a great job!
We were up and out early this morning because Ms. Barbara had an 8 am appointment with the orthopedic surgeon who restored my right knee two years ago.  Her knees have been giving her problems for some time now.  Well, an X-ray of each knee showed that they are definitely in need of reconstruction.  The good news is that the wheels are now turning to have this done.  Hopefully, one will be done by the end of this year; and, the second will be done the beginning of next year.
From the doctor's we headed on over to one of our favorite restaurants for a breakfast celebration.  Out west you can't find a Bob Evans to save your life.  So, when we discovered this one we just knew we had to stop before we left this area.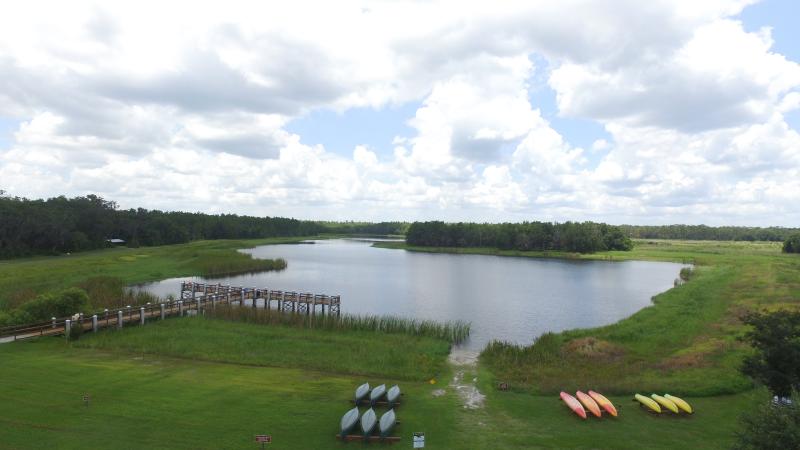 This Sunday we're pulling up stakes several days early and heading south to Colt Creek State Park.  Ms. Barbara's brother will be having an out-patient procedure done on Monday and we want to be there.  This park is only thirty minutes from the hospital where he will be.  So, the plan is to meet him and his wife beforehand and spend some time with both of them.  Sure is convenient at times to have wheels on your home.
OK, let's finish up our time here at Silver Springs.
Wandering around over by the museum I discovered these buildings.
I learned that it is a replica of a Florida Cracker Homestead.
Now, what exactly is a cracker?  It really depends on who you ask.  A little research revealed that the most common and accepted answer is that the name refers to:
He or she is from a family that was here long before the huge population explosions in Florida after World War Two. He or she is almost always Caucasian.  They and their ancestors lived in Florida and prospered before the days of cars, highways, mosquito control, air conditioning, medicare, social security and government welfare.
A Florida cracker usually has a rural upbringing, either on a farm or in a small town with plenty of woods and water for hunting and fishing and land for planting.  That's because a Florida cracker is often self sufficient.
As for the name itself, depends on who you ask but again the most common and accepted origin of the name comes from:  the name comes from the crack of the whip that the early Georgia and Florida settlers used to control their cattle and drive their wagons. This is still the favorite theory of Florida crackers in the cattle counties of central and southwest Florida. They're still cracking the whip even in modern times.
Time for a tour of their village.  Unfortunately, all of the buildings are locked up tight.  Once again a result of COVID-19.  The rangers are no longer conducting tours.
This first building is really a part of the museum.
Moving into the cracker village.
Their style of architect emphasized large porches.  It was a place for family gatherings and gave members of the family a place to relax outside removed from the weather.
Did you catch that last sentence about the fireplace and chimney?  I guess they must have had a few accidents over time.
A typical out building.  Alas, today even the cow is long gone.
This building did double duty.  It was a school during the week and a church on Sunday.
This kicked my curiosity into overdrive and I just had to know what it was.  Time to investigate.
A bit of sleuthing on the internet and I learned a few things.  This is an antique mill or press used to crush sorghum or sugar cane.  It was made by the Chattanooga Plow Company.   It would have been driven by either a single horse or mule.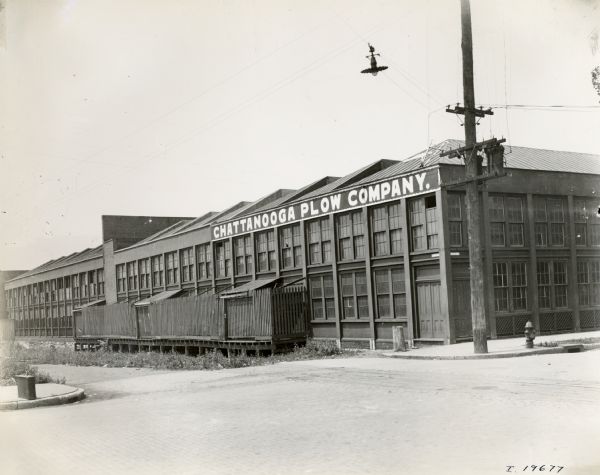 The Chattanooga Plow Company was once the largest factory in Chattanooga and an international leader in plow design and production. They focused on a "southern plow," the one- or two-horse plow most commonly used by southern farmers. As the company expanded into new markets, they held expositions and field schools to prove the ability of the plow and to teach the proper ways to use the plows.   Chattanooga Plow also added a line of cane mills, evaporators, and furnaces for processing sugar cane and making syrups. 
Regarding sorghum or sugar cane: Sorghum is a plant native to Africa that was first raised in the United States in 1853 or so.  Much like sugar cane, sorghum cane has a sweet core that can be pressed and boiled to make sorghum syrup (some people call it molasses or sorghum molasses.  Molasses is technically made from sugar cane only.  It was commonly grown on farms in the south where sugar cane wouldn't thrive (i.e. the mid-south) so families could have access to sweetener.  Anyhow, as family farms declined in number and as artificial sweeteners grew in popularity and cheap labor (I read this as large farm families) became less accessible, sorghum fell by the wayside
A typical press in operation.
So that brings to an end my wanderings around the Silver Springs Campground.  I had a delightful time on the trails – at least the ones I was able to hike – and just wandering around and checking things out.
Another week has come to a close on The Road of Retirement.  It has been a really great week overall.  We've had time to just rest and relax.  I've been able to do some hiking.  I have to tell you the fact that I can even go on a trail is something I will never, ever take for granted.  Two years ago before both of my knees were reconstructed I could only walk on hard surfaces and only then if they were level.  Now, I can hike and I can and have also climbed to the top of more than a few lighthouses.  Walking, hiking something so often take for granted.  I never will.  God Is Good All Of The Time
Before I forget you know who finally gave me back my flashlight this afternoon.  Now, if only he will also give me back the case for it.  Ah well, the flashlight is really the important thing.
Thanks for joining us again today.  We always appreciate your company as well as your comments and suggestions. Keep safe, keep healthy, enjoy the days that God gives you.
These are the voyages of  Elvira and her two intrepid travelers.  Our continuing mission: to explore as many new states as possible, to seek out new acquaintances and make new friends, to boldly go where we have never been before.
See you on down the road!