Places We Have Called Home In 2020
68
January 22, 2021
Temperature 80 Degrees
Playing Tourist
We awoke to another beautiful day this morning.  Plenty of sunshine and nice warm temperatures.  A quick cup of coffee and a muffin and I was ready to face the day.
It was time to get out and about.  It didn't really matter where we went, we just knew we had to go.  Where did we end up?
A bit of history about the tower. . .
That's the equivalent of 22 stories!
It also contains 149,000 pounds of reinforcing steel.
How about those dresses!
It opened to great fanfare.
Remember, at that time there was no Walt Disney World or Universal Studios.  If you visited Orlando in those days and wanted to go to a Florida tourist attraction, you pretty much had to drive out to Clermont to see the tower.
Today, a smooth elevator ride is the way to the top.  It is sort of weird in that the elevator only has two buttons – for the first floor – the lobby, and the second floor – the glass enclosed observation deck.  No stopping anywhere inbetween.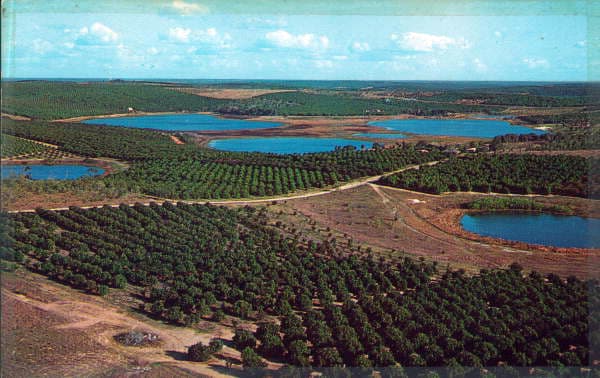 The tower was built to showcase the hundreds of thousands of citrus trees that covered Central Florida in those days.  Back then, one third of Florida's total citrus groves could be viewed from the top of the tower.
Today, there are no citrus groves to be seen.  They were destroyed by devastating freezes in the early 1980's and later more were destroyed by a disease that continues to impact the citrus industry in Florida today.  Now, the land surrounding the tower has been developed into residential subdivisions and shopping malls.  Here is the view from the top today.
It was a wonderful way to spend a day out.  But we weren't done, however, we'll save our second stop for tomorrow's blog.
That was part of our day today on The Road of Retirement.  We both needed a day like today.  All in all, we had a delightful time walking hand in hand, enjoying the beauty of the world that God created.  We've promised ourselves that we're going to do this more often.  Where we'll go, we're not sure just yet.  But we'll find places to visit rest assured.
Thanks for stopping by today.  We always appreciate your company, your comments, and your suggestions. Keep safe, keep healthy, live to the fullest the days that God gives you.
These are the voyages of  Elvira and her two intrepid travelers.  Our continuing mission: to explore as many new states as possible, to seek out new acquaintances and make new friends, to boldly go where we have never been before.
See you on down the road!