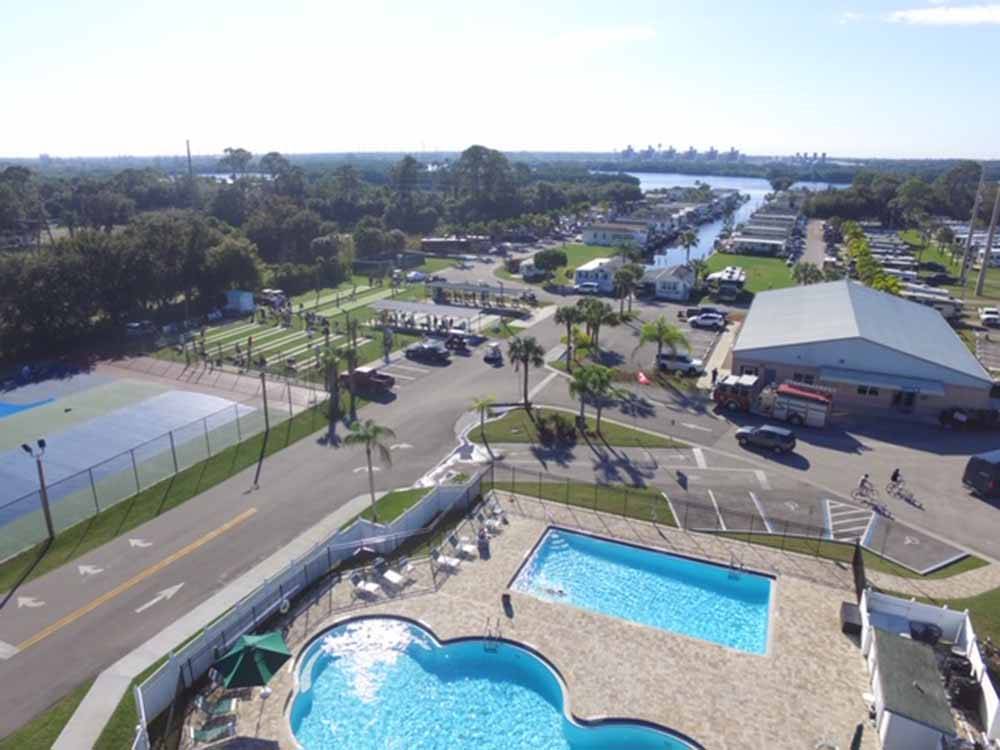 Sunday March 28, 2021
Temperature 91 Degrees
Travel Day – First One In A Long Time
Is This RV Park For Real
We awoke to a beautiful day, clear blue sky, warm temperatures, but really windy. The wind in particular would continue throughout our travels to Fort Myers.
We had a few items yet to pick up and put away so we each went to our assigned chores. Over the years we have developed a good division of labor which really works well for the two of us.
It was now time to bring in the slides. All four came in without an issue and the locks on each slide worked perfectly.
Soon enough it was the moment of truth – bringing Elvira to life. Key in the ignition, pre-ignition ritual, and the girl fired right up and settled down to a steady idle. The pressure in the air tanks came right up, the jacks came up without a hitch and soon enough we were at ride height ready to roll.
Time to get the car on the tow bar and check all the lights. I hooked up without an issue and a brake/turn signal light check showed that all were working properly. We were ready to roll south. It was 10:11 am, we were just a few minutes past our ETD.
Out on I75 I set the cruise at 64 mph and sat back to enjoy the ride. However, the wind had other ideas. We had gusty side winds the whole way which made for some interesting driving most of the way.
It was just a little bit over three hours and we were at our exit. At the bottom of the ramp a left turn and five minutes later a right turn and we were at Upriver RV Resort which will be our new home for three days.
Let me say this right here and now, this park was not what I would have picked but the gentleman who is coming here to work on Elvira highly recommended it. Unfortunately, I don't believe he has ever spent a night in an RV in this park.
This is our premium spot for which we paid a hefty amount. The first major ding is the high-tension wires overhead. I don't know about you, but I just don't feel comfortable parked beneath them. Sure, I know that they say that as long as you are not within 14 feet of them you are OK. I just don't like it. So, yes we're on a concrete pad, however, it has a slope to the front. Where is our car? Behind on a patch of dirt that would make a great sleight riding spot if it snowed in these parts. I guess you might be getting the idea that I'm not really thrilled with this spot. Suffice to say, we would never return here again.
The view down our block. You have park models on the one side and a slew of trailers across from them on our side of the road.
Across from us is the canal that leads to the bay. Ah, maybe that's why they consider this a premium spot, it has a waterfront view. Give me a break. Just three days and not a day longer. I just have to keep telling myself that.
On to other things. Thanks one and all for your suggestions regarding our car dilemma. We have an appointment on Wednesday to try one more time to get it fixed. If that doesn't resolve the issue then eventually we'll replace it.
When we finally arrived and were settled in we took the time
to attend virtual worship at our home church.
Today was Palm Sunday and the service began with a verbal and choral call to worship on the front steps of the church.
There was, of course, special music, a number of congregational songs and another strong message of God's love from Pastor Scott.
That was our day on The Road of Retirement. Though it was an easy day of travel it was also somewhat of a strange day. I used to so look forward to trips of any kind with Elvira. It didn't matter whether we were going for service or to a whole new part of the country. But that excitement was missing today. I don't know why but I sure hope the old mojo comes back once we turn around and head back north.
Thanks for taking the time to read our blog. We always appreciate your company, your comments, and your suggestions. Keep safe, keep healthy, live to the fullest the days that God gives you.
These are the voyages of  Elvira and her two intrepid travelers.  Our continuing mission: to explore as many new states as possible, to seek out new acquaintances and make new friends, to boldly go where we have never been before.
See you on down the road!