Thursday, May 20, 2021
Temperature Low, 50 Degrees; High, 84 Degrees
Travel Day
First, Amanda showed up. Bless her heart she left work last night and drove an hour just to spend one more night with us. It was great having her for supper, and of course breakfast. An early morning breakfast, I might add, since she had to be in Baltimore no later than 8:30 am. and she had an hour drive ahead of her. Breakfast over, we hugged, and hugged some more and than said as we have been until we meet again. We come back through Williamsport on June 8/9 and I'm sure she will be spending at least one day with us.
Amanda had been gone no more than thirty minutes and it was Adam's turn. He had just gotten off of work, went home for a quick shower and then came over for one last visit. It did cost me my last double chocolate chip muffin! We visited for about an hour than it was time for us to finish packing up and get on the road. Once again we said until we meet again. Despite the loss of my muffin I will always cherish this hour. We absolutely enjoyed our time with Amanda and Adam these last three weeks. As someone said When we lay our heads down on our pillows at night so many beautiful memories come flooding back.
Time now to finishing packing up and attend to SEW – which translates to sewer, electric and water. All too soon the slides were in, all utilities were disconnected, the jacks were up and we were ready to roll. I had been having trouble with the left directional on the car when hooked up. Yesterday, I took a small gun brush and cleaned the connector that plugs into the car. Well, that did the trick! All lights now work which is a big plus when dealing with all the traffic out here on the East. Thanks Sis for the idea.
The first part of the trip was on I-81 North. I was surprised that it went as well as it did. The road for the most part was in good condition. Traffic, though heavy, kept moving with only two or three slow downs along the way. Very quickly we were leaving Maryland and motoring into Pennsylvania.
Next, came I-78. Thankfully, this was the shortest part of the drive because this road is the worse so far. It was uneven, sunken in sections. and very narrow for one eight mile stretch. Not the kind of road one likes to be on in a Class A.
I was oh so happy when we exited and were headed to our new home.
The entrance sign to our new home for the next five days.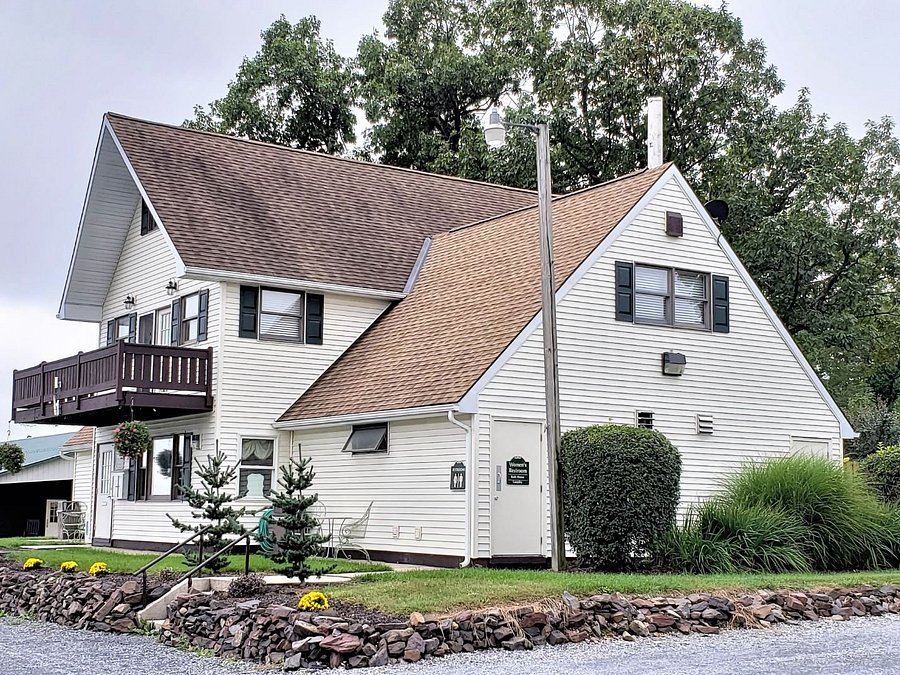 First stop was at the front office to pick up our welcome package.
Around the corner and down the road we went to our
new home. It is hard packed gravel; of course it isn't level but the jacks did their magic; all utilities are right where they need to be; and, we have both some shade and still a clear view of the southern sky so our DISH antenna has located and locked on to all three satellites.
We will be here for five nights. We plan on making a trip from here this Sunday to attend worship at our home church in Colts Neck, New Jersey. To my way of thinking it is far better to go over by car rather than trying to take the rig. As of now we have no idea what else we might do. I do know of a car museum I would like to visit.
That was our day on The Road of Retirement. The last three weeks have gone by in a blur and have been full of so many beautiful memories that we will cherish for a lifetime. But the time has come to move on and make even more beautiful memories so onward we will go. God has been good to us and continues to shine His favor on us. We are two of the most blessed and fortunate people in the world.
Thanks for taking the time to read our blog. We always appreciate your company, your comments, and your suggestions. Keep safe, keep healthy, live to the fullest the days that God gives you.
These are the voyages of  Elvira and her two intrepid travelers.  Our continuing mission: to explore as many new states as possible, to seek out new acquaintances and make new friends, to boldly go where we have never been before.
See you on down the road!