Thursday, June 10, 2021
Rain, Thunder and Lighting, Temperature 93 Degrees
Travel Day, Leg Two, Going Home
It sounds so strange to say it, We're going home. Until now home has always been wherever we have parked. Honestly, I don't if I'm completely comfortable yet with this new chapter in our lives. Everyone tells me I'm going to love it. They tell me having a home base is going to be great. Could be.
Well, be that as it may, today was the second leg of our journey home. Once again the forecast called for rain in the morning and rain when we arrived in Ashland, VA. Once again they were wrong. No complaints from me. However, come evening as I'm writing this the thunder is booming and the rain is falling. Ok, bring it on we are set up and comfortable inside.
Today was a strange but interesting trip. We went down I-81, then took Route 66 to Route 17 to Route 95. We had some traffic but not much. The roads were so-so. As for the interesting part. On Route 66 an 18 wheeler pulled alongside us in the left lane laying on the horn and motioning to us to get over to the shoulder. What! To the shoulder I went. I opened the door and looked back down the passenger side and we had a locker door wide open. Thankfully, we hadn't lost a thing. I slammed the locker shut and we were on our way. Thank you my trucker friend.
But wait it gets better. Later on I pulled into a truck stop to refuel. Just as I'm about to pull up to the pumps I hear a banging our our door. Outside stands a UPS driver. I didn't remember ordering anything and do they really deliver at truck stops? Ms. Barbara opened the door and he said Your rear locker door is open. It turned out it was the same locker door as before. This has never happened before. I thanked him and we both went on our way.
Oh, but it gets even better. More about that in a minute.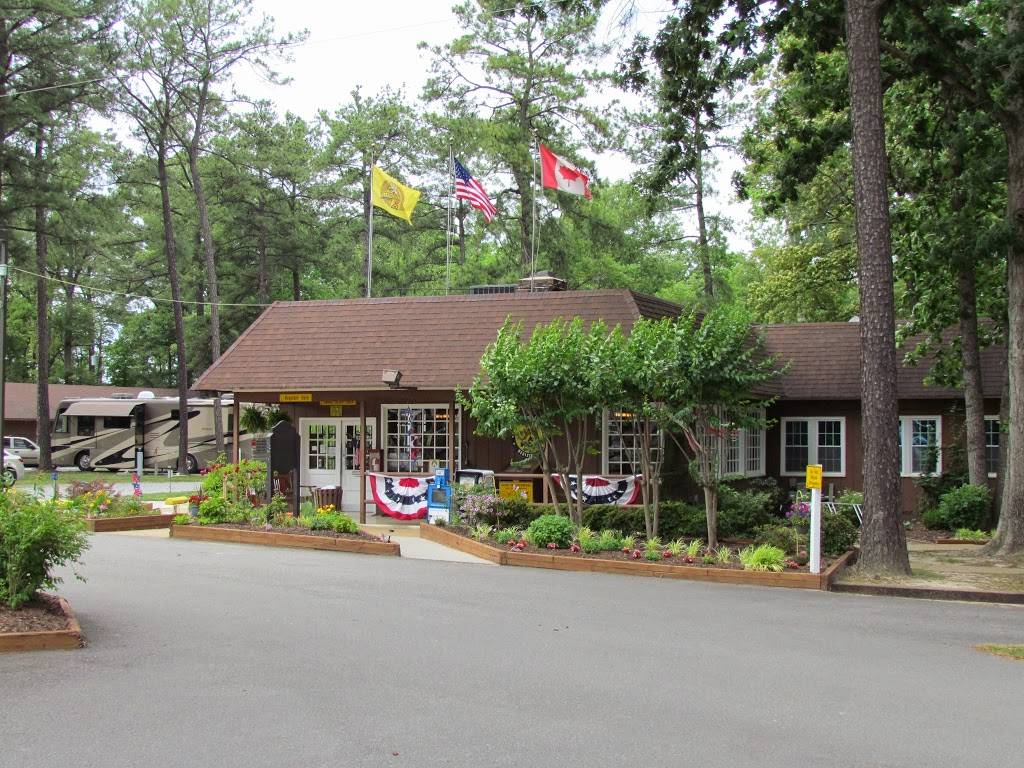 We were only about ten minutes from our new home once we left the truck stop. The entrance is well marked and the office is right there as you pull in. Ms. Barbara went in the office to register and when she came back out she was not smiling. I called yesterday to confirm our site and to ask if it was satellite friendly, Our original site wasn't but they assured me it would be changed to one that was. Long story short, it wasn't changed. We were given three different stories as to why it couldn't be changed but finally we just gave up and accepted what they gave us.
Here is our new home (can I still refer to it that way) for the next two nights. It is a pull-thru, reasonably level with FHU.
This is why we have no satellite. However, on the flip side the trees do keep the temperature down inside Elvira.
Then I spotted this right across the street from us. Yes, it is a large wooden turtle! How cool.
Now remember I said this trip would get even better later on. Actually, it just proves how small a world we live in.
Early evening before the rain began I went out to get something from the car. Standing across the street in the very same site with the turtle was this really tall UPS driver. We both looked at one another and said at almost the same time You look very familiar! Sure enough he was the very same UPS driver who stopped us at the truck stop. He is a permanent resident of the park. We spent the better part of the next half hour just talking about all things RV'ing. What a really nice gentleman.
That was our day on The Road of Retirement. All too soon our traveling days will be over for a bit. But mark my words, they are not over for good. Once I'm through with this speed bump in my life it will be back on the road. On that we both agree. To me this is sort of like time out for a spell. That's all it is. OK, this leg is over and once again we want to say Thank you Lord for a safe trip.
Thanks for taking the time to read our blog. We always appreciate your company, your comments, and your suggestions. Remember, take time to stop and smell the roses and live each day that God gives you to the fullest.
These are the voyages of  Elvira and her two intrepid travelers.  Our continuing mission: to explore as many new states as possible, to seek out new acquaintances and make new friends, to boldly go where we have never been before.
See you on down the road!