Before getting into our day's activities let's together offer up a prayer for all those who were either injured or killed during that horrific attack on the synagogue in Pittsburgh today.  So many promising lives lost and so many families torn apart.
Today was moving day.  However, since we were in essence already packed and only had to put things back on the bed we slept in and took the morning easy.  We had breakfast, played Mexican train, then we threw everything back on the bed and hit the road.  On the way out we stopped to dump the tanks since we will not have a full hook up site where we are going.
We elected this trip to take the back roads.  This kept us on Florida 301 up through Starke
to Keystone Heights.  It added about twenty minutes to the trip which gave us a total travel time of just a little under two hours.  Traffic was light and except for several small towns we passed through which slowed us down the trip was an uneventful one.
In due time we reached our destination which is Mike Roess Gold Head Branch State Park.  One of Florida's first state parks, Gold Head Branch became part of the Florida state
park system in 1935. The initial property was donated by Martin J. "Mike" Roess (pronounced "Race") and developed by the Civilian Conservation Corps (CCC).  Gold Head is located on rolling sandhills on the North Central Ridge of Florida. A steep head ravine with seepage springs forms Gold Head Branch and bisects the park. Marshes, lakes and scrub provide habitat for a wide variety of wildlife.
The ranger station is immediately off the road and easy to locate.  Check in was quick.
There are two main sections to the park, there is the Turkey Hill section and the Sand Hill section.  Take the wrong turn toward Turkey Hill and we were told we would probably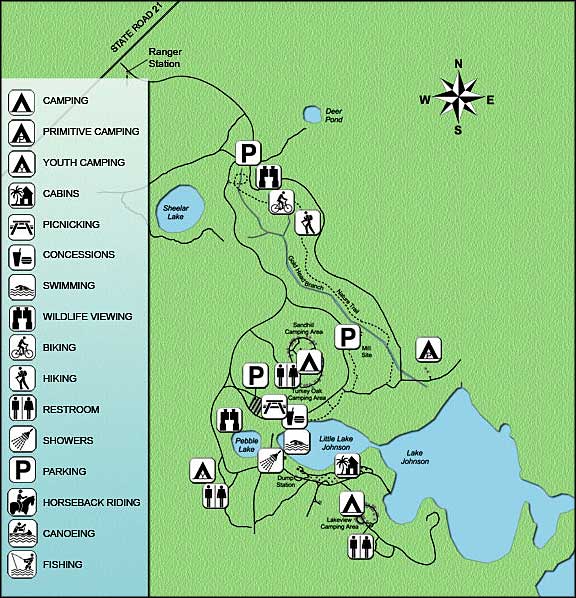 take the roof off of Graybeard.  Yes, we made the right turn but man oh man did you ever have to be careful.  There are all kinds of trees hanging over the road and you have to zig and zag to miss them.
So as we always say Home Is Where We Park It, here is our new home for the next twelve days.  It is hard packed sand, long enough that I was able to find a section that was reasonably level, and yet at a comfortable distance from the power and water connections.  It is far from perfect, the water pressure is nill, the sun is on the
refrigerator most of the day, and you have to be really careful not to track sand in when you are coming and going.  Also, like most Florida parks, it is not full hook up.  It will do for now.
This is a picture looking down the road from us toward one of the few occupied sites.
This is looking through the trees across from us toward the bathrooms and showers.
So we're settled in for now.  Tomorrow we'll start looking for places to visit and shop.
Remember I said yesterday that we were finished with maintenance for now?  I spoke too soon.  When we arrived here I noticed that the coach batteries were not charging either via the engine alternator nor the converter.  Later I was able to determine that despite what the volt meter said, yes, they were being charged by the engine alternator.  But not by the converter.  For now I have the battery tender on the coach batteries keeping somewhat of a charge in them until I can figure out what is going on.  Oh life in an RV is never, ever dull!
Well, that was our day on The Road of Retirement, the two of us as always spent the day traveling along, hand in hand, singing our song.  Thanks again for joining us today it was great having you along.  We hope your day was as great as ours.  If not, why then grab hold of tomorrow and make it the best that you can.  Going to say goodnight at this point and go find an extra blanket, temperatures are supposed to drop into the mid forties tonight.  Really?  Yup how un-Florida like.  And now a thought for each of us to ponder upon:
As always,  if you are coming to the end of your day with concerns and worries, let me suggest that you turn them over to God.  After all, He is going to be up all night so why not let him handle them for you.
Time now for our evening prayers and eventually some shut-eye.  Till tomorrow.
These are the voyages of  Graybeard and it's occupants, four paws and two humans.  Our continuing mission: to explore as many new states as possible, to seek out new acquaintances and make new friends, to boldly go where we have not been before