Let it snow, let it snow – not here in Florida but it sure did in other parts of the country.
Here in Florida we didn't have snow but we had some very unusually cold temperatures for this time of year.  When we went to bed last night it was already in the low 50's and it continued to drop throughout the night.  When I awoke this morning it was hovering around 45.  I'm not complaining at all especially when I saw what others were going through.  Just stating it is a wee bit chilly here.  As a friend said We expect WARM temperatures in Florida this time of year.
No problem, however, the heat pump was able to keep the chill at bay.  Along with our small electric heater we were snug and warm throughout the night.  This morning the
two provided more than enough heat to keep us warm.  Two more nights of this cold air we are told and things will be back to normal.  It is what it is.
Breakfast was again great.  Barbara made me an egg, cheese and ham sandwich on an onion roll.  Add a glass of juice and a couple mugs of coffee and I was fueled up and ready to go.
Go we did.  We needed to take Marti back to the Veterinarian for another medicated bath to take care of his skin condition.  Unfortunately, as long as he continues to stay here in
Florida, for that matter most of the southern states, he is not really going to get a whole lot better.  We're working on a permanent solution which we believe will be the best for him in the long run.  We love you little man and want only the best for you.
Home I swapped out the old water filter for a new one.  It's supposed to be changed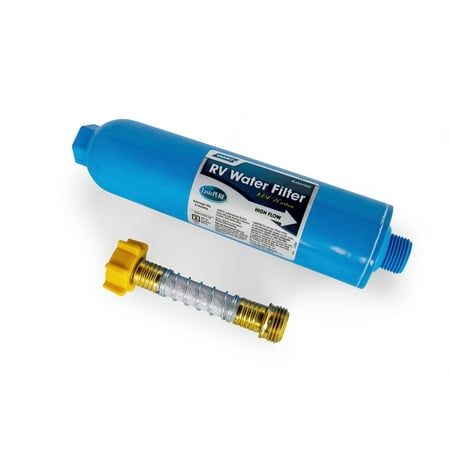 every six months but somewhere along the way I lost count of how many months the old one had been used.  Suffice to say it was way more than six months.  It's done now and the date it needs to be changed is now noted on the calendar.
Back inside Barbara worked on Christmas gifts, our bills, and other odds and ends.  I worked on Tour America 2019 for several more hours.  I've added a new stop, adjusted dates, and searched for more campgrounds.  Regarding campgrounds, there is one in particular we want to get a site at.  I called today and was told they only have 17 sites that can be reserved and if I want one of them they go up for bid on January 2nd.  You can believe I'm going to be on the phone early that morning.  Next year, we're going to try something new, that being even when we only need an overnight stop we are going to try and stay put for at least two days when and if possible.  A chance if you will to just catch our breath before moving on.
Here's one for the books.  We have been waiting for a long time now for a very important document.  It was mailed on October 18th.  Guess what arrived today?  Yep, it finally got
here.  I think the Post Office must have gone back to using the Pony Express on this one!
That was our day on The Road of Retirement.  As always we traveled the road together, hand in hand, side by side, singing our song.  Thanks for traveling along with us we enjoyed your company.  We hope you had just as great a day as we did.  Even if you had some snow to deal with.  Truthfully, the only time I ever want to see snow again is in pictures like the ones at the beginning of the blog.
Time to go now.  Let's see where did I leave that extra blanket?  Hey, once again let me leave you with a thought to think upon:
As always,  if you are coming to the end of your day with concerns and worries, let me suggest that you turn them over to God.  After all, He is going to be up all night so why not let him handle them for you.
Time now for our evening prayers and eventually some shut-eye.  Till tomorrow.
These are the voyages of  Graybeard and it's occupants, four paws and two humans.  Our continuing mission: to explore as many new states as possible, to seek out new acquaintances and make new friends, to boldly go where we have not been before
See you on down the road