Places We Have Called Home In 2019
Home Is Where We Park It:   Dream Catcher RV Park, Deming, New Mexico
September 13, 2019
Temperature 90
Travel Day and A New Home
We Made It – Still Don't Know What the Noise Is But We'll Find Out
There was no reason to hang out in the park so we were up and at it early this morning.  We were on the road by 8 am and heading even further south.
Yesterday I crawled all around under Graybeard but couldn't find a thing wrong.  Nothing was loose, nothing was hanging down, driveshaft, etc all looked in order.  Only thing to do I concluded was to roll on.  Once I arrived in Deming I would begin to look for a repair facility that handled RV's and in particular the Ford F53 chassis and make an appointment.  That's exactly what I did, Graybeard goes in next Thursday for a checkup.  But I'm getting ahead of myself.
Route 70 westbound was one of the best roads we've been on lately.  It is smooth, hardly any construction, and traffic was light.
How about some pictures of our trip today?  Since Barbara couldn't get pictures of all of our trip today I'm going to mix her's with some stock pictures from the web.
Remember yesterday I said how glad I was that we didn't have to go up and over these mountains?
Oh how wrong I was!   Within an hour I discovered that the bear did indeed have to go over the mountain.
This was the first sign that the mountain did indeed have to be crossed and what was ahead of us.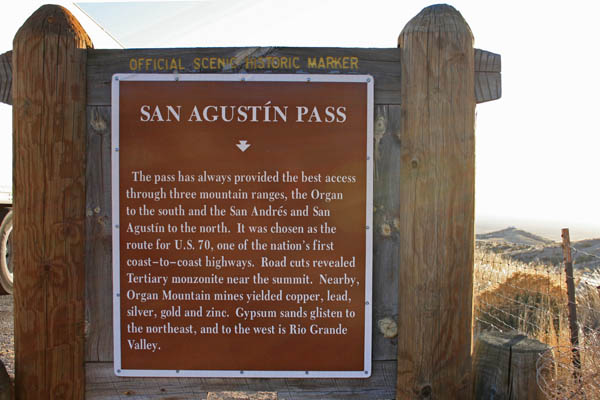 About half way up on the left you find this. A little investigative work on the web turned up this information about it.  An old Nike Missile stands as if launch-ready at a highway overlook, welcoming drivers to pull off and ponder the desert where America once tested its atomic bombs.  The Nike Hercules Missile is 41 ft. tall, and was part of a Cold War anti-aircraft defense system designed to protect American cities from Soviet bomber attacks. The missile, which would speed to its target at 2,500 miles per hour, had a range of 75 miles and "a maximum altitude of almost 30 miles," according to an informative sign at the rest stop.  The overlook provides a dramatic view down into the valley to the White Sands Missile Range. The range is still used for tests.
We made it to the top!  It was a 7 mile grade varying between 4 and 6 %.  With every mountain that we climb I become even more impressed with the power of Graybeard.  We may not be the first, nor the fastest to the top but we always make it.
Time now to go down, and go down we did.  It was similar to the upgrade varying between a 4 to 6% grade.  With the transmission in tow haul it's as good as an engine brake.  Hit the brakes and it automatically downshifts to a lower gear which keeps your speed reasonable.
Down at the bottom of the mountain we entered the town of Las Cruces.  Barbara was able to get these neat pictures on the sides of two different tanks.
A little further on she discovered and took a picture of this sculpture of a road runner on a hill alongside Route 10.
Time now for a Border Patrol inspection.  Everyone has to go through it, no exceptions.  The gentleman asked Just the two of you?  I answered Yes sir.  We were sent on our way with wishes for a safe trip.
A bit further down the road we came across this sign, another first for us.
The mountains in this area are absolutely stunning and majestic.
This is on our list of places to visit.
The one exit that we got off at Barbara snapped a picture of this.  Amazing what some people can do with what to me would be just a slab of concrete.
Soon enough we knew we had found our new home when we saw this sign.
Registration office.  And how about that when we went in we discovered friends, Bob and Mary, who we first met at the Raccoon Valley Escapees Park in Tennessee!
Inside on the one wall I discovered this sign with some real words of wisdom.
Outside we saw our first cactus alongside a beautiful pot.
Another beautifully decorated pot.
Here we are, home sweet home for the next six weeks.  Toto I have a feeling we are not in NJ anymore!  Our site is level with good site separation.
All utilities are convenient to the utility bay, no sun on the refrigerator, and Gertrude has a clear view of the south western sky.
As of now the park is empty.  Give it another month and they will begin to roll in.
Our updated map of states we've been too during the last two years.  I believe it's safe to say we've been a few places.
That was our day on The Road of Retirement.  Despite the weird noise in the back we made it with no issues.  Next Thursday we have an appointment to take to a highly recommended RV mechanic in the area.  The shop is only 5 minutes from the park.  We'll get to the bottom of this before we leave here I'm sure.  We have a beautiful new home, one of the best Escapees park we've been in.  And most important we have each other and we continue to travel along singing our song.  Life is very, very good.  Thank you good Lord for the life that is ours.
Thanks again for joining us today.  We always appreciate your company and your comments.  Catch you again tomorrow.
These are the voyages of  Graybeard and it's two intrepid travelers.  Our continuing mission: to explore as many new states as possible, to seek out new acquaintances and make new friends, to boldly go where we have not been before
See you on down the road!