Places We Have Called Home In 2019
Home Is Where We Park It:   Dream Catcher RV Park, Deming, New Mexico
Oct 8, 2019
Temperature 71 degrees
Deming Luna Mimbres Museum  – The Last Pictures
One would think with the number of days that I've missed in posting a blog that we must be awful busy.  Honestly, not really.  Instead, the internet has been a bit wonky and I've been a bit lazy.  We're just enjoying our last few days before our world is turned upside down the end of this week.
So what have we been doing?  We've played a lot of Mexican Train.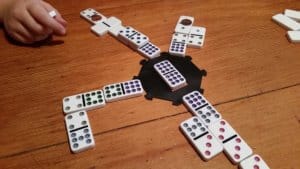 We've done research on possible sights of interest in Tucson and Phoenix using Roadside America.
I've also updated our link regarding places we have stayed.  I realized I was missing two stops, and that I had not included details and pictures for several links.  The link is now up-to-date.
OK, let's now finish up our visit to the Deming Luna Mimbres Museum.  There are a number of pictures that I took that I would still like to share with you.  Let's get started.  We're going to stroll down the streets of pioneer Deming and take a look at some of the early shops.
Can you remember prices like this?
The Beauty Shop
How about that hair dryer to the right!
Livery Stable.
Gem Grocery.
Don't think we can get that ice box in Greybeard.
Mahoney's Hardware.
Something for everyone.
Barber Shop
Dentist
Some pictures from the Art Room.
The mountains in this area are absolutely breathtaking and majestic.  Also, a bit heart stopping when you have to go over them in an RV!
Amazing what some people can do with two horse shoes and some wire.
An overview of the 2nd floor.
A collection of two thousand bells, some of them hundreds of years old.
Anyone want a tamale?
I thought that this mural was so well done.  It's a mural of the 1918 Clubhouse for Spanish speaking soldiers on the east side of Deming; the courthouse park Gazebo; and, the old Mission Cafe (picture above) that was popular during WW II with the personal at Bombardier School at Deming Air Field.
The artist who painted it was Patricia Luchsinger-Lack.  She graduated from Deming High School in 1977, and was voted Women Artist of the Year in 1984-1985.
One last exhibit which I found so interesting.
That brings us to the end of our tour of the Museum.  A fascinating place full of all kinds of interesting exhibits and artifacts.  Definitely a place worth visiting if one is ever in this area.
We continue to travel along on The Road of Retirement.  We're still doing it our way traveling along, hand in hand, singing our song.  We have one more place we are going to try and visit before we leave here.  There are lots, and lots of other places we're not going to make it to.  To think when we first arrived here we honestly believed there was nothing to see and nothing to do.  How wrong we were!
Thanks for coming along with us.  We always appreciate your company and your comments.  Keep checking in with us and we'll continue to share our journey with you.
These are the voyages of  Graybeard and it's two intrepid travelers.  Our continuing mission: to explore as many new states as possible, to seek out new acquaintances and make new friends, to boldly go where we have never been before
See you on down the road!