Places We Have Called Home In 2020
Home Is Where We Park It – Fort Beale RV Park, Kingman, Arizona
June 5, 2020
18
Temperature 85 Degrees
A Different Kind Of Day
Park Decorations
Picking Up Odds and Ends
This was a most unusual day in terms of the weather.  The day started overcast and remained that way.  The wind was 25/30 mph with higher gusts.  It would rain like cats and dogs for two or three minutes and then stop.  It did that three or four times during the day.  The temperature was a comfortable 85 degrees which meant we could turn off the AC and open the windows.  It was so nice to feel the breeze blowing through Elvira.  The next four days they say should be like this which is fine by us.
There are generally two kinds of residents at this park.  You have the overnighters and then you have the more permanent residents.  We, of course don't fit in either category so I don't know what you could call us.  How about just biding our time.  But I digress.
All of the sites are well taken care of and one in particular has a bit of decorations put out.
If only they had put a turtle out I would give it a solid 10 points but missing that I can only give it a 9.

We needed to go foraging for milk and bread so it was off to Safeway in the afternoon.  This is one supermarket that always seems to have well stocked shelves and a fully stocked meat section.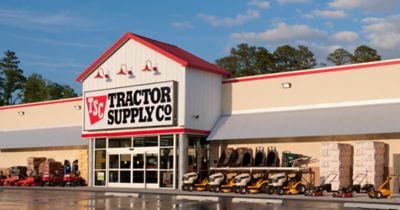 Next, we went across the street to Tractor Supply.  Believe it or not this is where they have that wonderful root beer and cream soda that I have developed a real thirst for.  Oh, I also needed an inlet washer filter for my pressure regulator setup.
Third stop during our running around.  We covered all the bases as you can stop.
One last stop – Five Guys.  We absolutely love their burgers and fries.  I mean, why go home and cook when on your way home is one of your favorite restaurants.  What made it even better is that they had an outdoor patio just around the corner.  Perfect.
There you have it, our Friday on The Road of Retirement.  It felt good to just get out and about for even an hour or so.  We're looking forward to the cooler days coming in the next four days.  We should be able to forgo the AC and just keep the windows open.  Yipee!  Like always we continue to travel along, hand in hand, singing our song.
In closing.
Thanks for joining us again today.  We always appreciate your company and your comments.  Until tomorrow.
These are the voyages of  Elvira and it's two intrepid travelers.  Our continuing mission: to explore as many new states as possible, to seek out new acquaintances and make new friends, to boldly go where we have never been before.
See you on down the road!