Places We Have Called Home In 2020
Home Is Where We Park It:  Grand Canyon Railway RV Park, Williams, Arizona 
June 16, 2020
Temperature 78 Degrees at Williams
Travel Day
Lessons Learned On The Road
Our New Home.
This morning was a bit of an odd one for both of us.  Normally, we're up and at it anxious to get on the road.  However, knowing that the drive was just a bit over 2 hours and that check-in  at the new RV park was around 1 pm we saw no need to leave before 10 am.
So we took our time.   We watched a murder mystery movie we had taped and just sat back and relaxed.
We rolled out of the park at 10:09 am – close enough to our scheduled departure time for us to give ourselves a high five.
Our original plan was to take Route 66 as far as we could go.  We knew from our previous travels on Route 66 that the road was two lane, in good shape and fairly level.  I decided, however, to take Route 40 because I also knew it had several really, really long hills that had to be ascended.  I needed to know, now, before we went much further how Elvira  would handle the mountains.  No time like the present to find out.
How was the trip?  The traffic makes it obvious that the world is beginning to open back up.  In addition, Route 40 in spots was no winner.  It was rough and full of pot holes.  The wind also made the trip very interesting.  It was blowing from the side and gusting so hard at times that you had to really hang on.
About those mountains.  We both noticed almost at the same time how different they are from what we saw in Congress and Kingman.  The mountains around here are full of green trees!  No more cactus.  They're also really, really high.
How did Elvira take to the mountains?  I had the new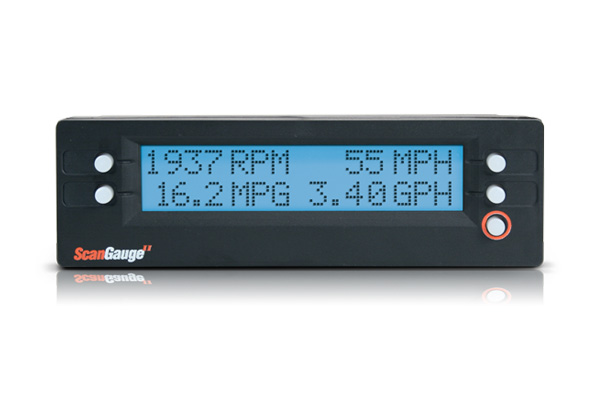 Scan Gauge installed and set to monitor just the water temperature and the transmission temperature.  So what did I discover?  The temperature along the way was in the mid 90's  I learned that when going up a mountain that  if I didn't try to race to the top of the hill, if by downshifting I kept the RPM's to around 2000 or 2100 I could keep the water temperature at 197 and the transmission temperature at 195.  The longest mountain we climbed today was 10 miles with a grade between  5 and 6 percent and I had no issues whatever.   I'll sleep better tonight knowing this.  We've come up 3,400 feet and the temperatures have dropped by over 20 degrees!  What a pleasant surprise.
Soon enough we were at our exit, then in downtown Williams. One more turn and there it was.
That's the sign we were looking for because it pointed the way to the office for check-in at our new home.
Time to register.
This operation is first class all the way.  Wide and long slots for parking while you register.  Easy in and easy out.
A general view of the park.  The typical paved football field with designated slots in which to park your toy.  It's clean, well taken care of, the roads are easy to navigate and the park is completely full.
Our new home for the next week.  The site is paved, fairly level – which we really don't have to worry much about anymore – and more than long enough for Elvira and our car.
The utilities are right where you need them to be which made hooking up a breeze.
Our day on The Road of Retirement has come to an end.  It's been another fantastic day in so many ways.  We had an easy trip with no surprises.  I learned some valuable lessons about Elvira along the way.  We have a great home for the next 7 days.  The temperatures are oh so nice and moderate.  We'll get some sleep tonight and then go exploring tomorrow.  Truly, we are two of the most blessed and fortunate people living today.
Thanks for joining us today. We always appreciate having you with us and we especially enjoy your comments.  Until tomorrow when we'll be at our new home.
These are the voyages of  Elvira and it's two intrepid travelers.  Our continuing mission: to explore as many new states as possible, to seek out new acquaintances and make new friends, to boldly go where we have never been before.
See you on down the road!