Places We Have Called Home In 2020
Home Is Where We Park It:  Texas 281 RV Park, Bulverde, Texas
July 28, 2021
Temperature 98 Degrees
Landa Park Railroad
Miniature Golf
I Can Hear Again 
For the first time in a long time we have no train nearby.  Therefore, no whistle, no horn in the morning.  However, we have something different.  Cows mooing!  They are right up the hill from our site, no more than maybe a hundred feet away.  Now, that's something different to wake up to in the morning.
OK, about today.  Yes, we have more to share with you regarding our visit yesterday to
I promise we'll get to that tomorrow.  Trust me, it will be worth the wait.
But let's talk about today.  We wanted to go somewhere, anywhere, we just wanted to get out and about.  But where?  Our first choice was a popular museum in San Antonio.  However, neither of us could get that excited about driving into a ton of traffic besides which we really didn't want to spend the day inside.
Then it came to us.  We had passed it yesterday and decided it would be the prefect place to spend the day.
We were going to go back to Landa Park.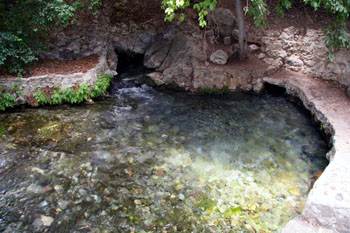 The heart of Landa Park is its natural artesian springs known as Comal Springs, the largest springs in Texas and the North American Southwest.  Owned by Harry and Joseph Landa from 1847 – 1927, the property was developed as a private park for family guests.
Landa's Park remained a popular tourist destination known as the Beauty Spot of Texas until 1927.
The park was sold to investors in 1927 and during the Great Depression fell in to disrepair.  The President of the Junior Chamber of Commerce in New Braunfels began an effort to negotiate the purchase of the park for $80,000. A bond referendum was passed, and in 1936, Landa Park was officially opened to the public.
When we passed the Rec Center we found this full size mural explaining the history of the park.
 Then there is this:  This mural captures the history and sparkling beauty of the Comal springs and river…from prehistoric times to the development of Landa Industries! Full of striking blues and greens, this piece of public art captures the ever-changing and forever-beautiful nature of our beloved waters. This was painted by Clinton Baermann and this mural was dedicated in 2004 and is located on the Parks and Recreation building at the entrance of Landa Park.
This is just one in a series of art works that belongs to the New Braunfels Historic Outdoor Art Museum.  The Museum boasts a beautiful series of 6 historic building murals, making up a beloved display of public art.  If we only had the time I would love to find the other five.
OK, now for the real reason we came back to the park.  We passed this yesterday and the kid inside of me just had to have a ride.
The Landa Park Railroad.   What better way than a ride on a miniature train to discover all 51 acres of this wonderful  park.
Every other seat is blocked off in order to maintain social distancing.
All aboard!  Ah, to be a kid again.  I remember train rides I used to take with my mom when I was a kid.
Across the river and into the park.
Come along and let's take a ride together through Landa Park.
Playgrounds for kids of all ages.
Lots of picnic space underneath magnificent oak trees.
A statue which I just knew I was going to have locate later and discover why it was here.
Flowing brooks.
Landa Lake which is usually full of paddle boats.
Another casualty of COVID-19.  Docked and covered paddle boats here until who knows when.  Sure would have liked to take one out.
The ever present ducks.
End of the ride and our engineer begins the disinfecting process prior to the next group of passengers.
But wait, we weren't done for the day!
Miniature Golf!  Yipee!  It's been years and years since we last played and today was the day to get back in the swing.
Look out Arnold Palmer!
Does it look like I have the correct stance?
Now doesn't this look interesting?
Around the cho cho train.
The 18th hole.
What a wonderful time we had.  We laughed.  We walked hand in hand.  Together, we were kids and best of friends having fun in God's great outdoors.
Remember that statue?
That wraps up our day at Landa Park.  We're so glad we made the decision to come here rather then to another museum.  Just to be out and enjoying the world which God created was so terrific.  We'll remember this day for a long time to come.
On the way home we decided to make a stop at the local supermarket.  We decided to stop here because this is where
was located.  Yup, you go to the supermarket to see the doctor.  Now, when was the last time you did that?
When we arrived here last Thursday I realized that I couldn't hear out of my left ear.  Time to find out what was going on.  Simple enough and a reoccurring problem I have with my ear – in fact both of them – they were completely clogged with ear wax.  Some 30 minutes later and I could hear as clear as could be.  Thanks doc.
That was our day on The Road of Retirement.  A beautiful, fantastic, wonderful day that ended on an even higher note with a piece of German Chocolate Cake with coconut that my sweetheart surprised me with.  She is the greatest.  Well, once again we managed to find some fantastic places to go while we were here.  Once again we had a terrific time while we called this park home.  Time now to pack things up and get ready to get on the road early Thursday morning.
We hope you enjoyed your day as much as we did ours.  We always appreciate your company and your comments.  Stay safe, wash your hands and wear your mask.  Till tomorrow.
These are the voyages of  Elvira and her two intrepid travelers.  Our continuing mission: to explore as many new states as possible, to seek out new acquaintances and make new friends, to boldly go where we have never been before.
See you on down the road!