Places We Have Called Home In 2020
Home Is Where We Park It:  Texas 281 RV Park, Bulverde, Texas
July 29, 2021
Temperature 93 Degrees
Gruene Historic District
Packing Up and Getting Ready For The Road
Just for a moment there this morning I thought we might have some rain.  The sky was dark, covered with clouds, the sun was nowhere to be seen.  Not to be.  An hour later and the sky was clear and the sun was shining bright.
Time to go back to
This wonderful historic district almost never came to be.
For many years Gruene was a prosperous cotton producing area.  However, In 1922 the town's cotton gin burned down, which proved disastrous for Gruene. The cotton gin never functioned again after that. After the stock market crash of 1929, cotton prices plummeted, and cotton farming ceased in the area altogether.
That should have been the end of Gruene except for one individual. In 1974, Chip Kaufman, an architecture student at UT Austin working with the Texas Historical Commission and an avid kayaker floated down a little further on the Guadalupe River than usual, to the southern most public takeout known as The Gruene Crossing.
After catching a glimpse of an old water tower up the hill peeking above the treetops, he decided to investigate. Astonished by his discovery of numerous late 1800's and early 1900's buildings, he immediately realized their significance and requested permission from the Texas Historical Commission to inventory the buildings for their records, which they approved.
While doing this he learned that a group of real estate developers had purchased the last 200+ acres of the Gruene Estate, including all the historic buildings, and planned a housing development which included razing the old structures to build condominiums on the river bluff.
Kaufman convinced the developers of the significance of the buildings in Texas history and with their blessing Kaufman worked to place Gruene on the National Register of Historic Places in 1975 as an entire district. The developers further agreed to let Kaufman find new owners interested in the old buildings for new commercial ventures which would provide a core for their new housing development.
Pat Molak was among the first of the new owners.  She was frustrated with big-city life and in search of a true Texas dance hall, so she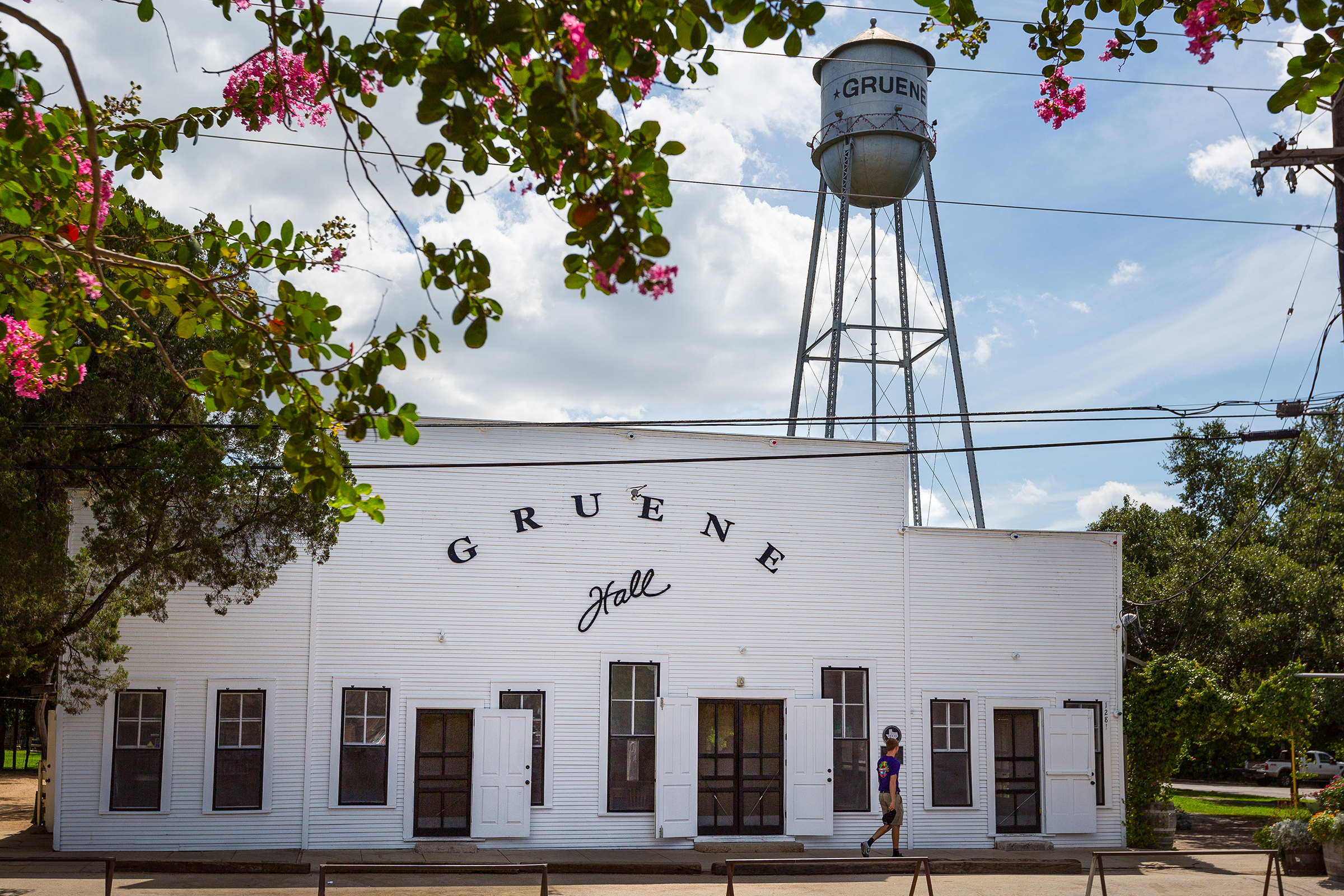 purchased Gruene Hall in 1975.
Gruene Hall is the oldest dance hall that has been continuously operating in Texas. It was built in 1878, and continued to run through prohibition, and even during the towns ghost town days.
Under Pat's ownership the 6,000 square-foot, open-air dance hall became a virtual magnet, a starting point for many of Texas' up-and-coming performers, and once again, the heart of Gruene.
Those that have played the Hall included The Chicks (The former Dixie Chicks) George Strait, Hal Ketchum and Willie Nelson.  Riding on their coat tails Gruene literally two stepped out of ghost town status to a bright new future.  The Hall continues to be a live music destination today,
Others soon began to invest in Gruene and these developments seem to rekindle the spark of Gruene and soon the town's charm began to shine again.
For instance
This restaurant sits right along the Guadalupe River surrounded by large, stately trees. This restaurant is located  at what once was the center of industry inasmuch as it is built in the shell of the old cotton Gin.
And there is more.
Unfortunately, we didn't have a chance to go inside this store.
Nor this one.
But then there was this one.
Come on, let's go in you are going to be amazed by what's inside.
Sadly, we didn't bring any home.
But we did stop here.  What's a day without a big scoop of ice cream.
Today Gruene itself has been added to the National Register of Historic Places, and many of the buildings have been awarded a Texas medallion from the Texas Historical Commission. It has also been recognized by the Texas travel industry as a premiere attraction for visitors, which is no surprise to its merchants and guests.
Our visit to Gruene has come to an end.  We definitely wish we had had more time to visit the other shops.  One thing is for sure, if we are ever back in this area this little slice of Texas will be on our must revisit list.
That's it for our day on The Road of Retirement.  Time now to get busy packing up.  We're back on the road again tomorrow moving yet a little bit further east.
Thanks for stopping by today.  We always appreciate your company and your comments.  Stay safe, wash your hands and wear your mask.  Till tomorrow.
These are the voyages of  Elvira and her two intrepid travelers.  Our continuing mission: to explore as many new states as possible, to seek out new acquaintances and make new friends, to boldly go where we have never been before.
See you on down the road!