October 2, 2021
Temperature 87 Degrees
Lake Cruising
Several days before Adam left we decided to do one last activity together.
We decided to take an early morning cruise on the lakes around Winter Haven. There are several cruises offered: early morning, early afternoon, sunset, water sky show, fireworks, and a dinner cruise.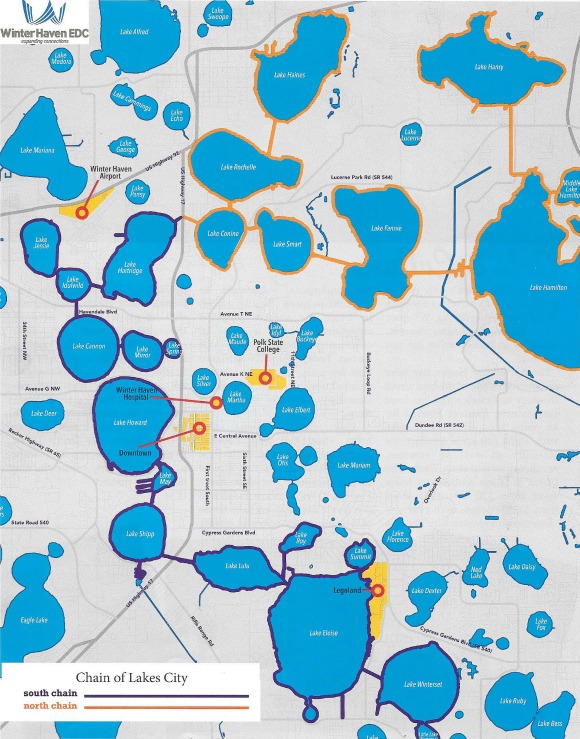 I quickly learned that Winter Haven is also known as the Chain of Lakes City. It is called this because Winter Haven is located in the midst of some 50 lakes varying in size from tiny to fairly large. I also learned that there is a Northern Chain and a Southern Chain that is now interconnected by a lock.
Our morning cruise would be on the Southern Chain. The day was picture perfect. A beautiful blue sky and calm water on each and every lake. We would move from lake to lake via a series of canals connecting one lake to the other. The story goes that in 1915 the canals were first envisioned as a means of being able to move the harvest of the various citrus groves around the different lakes in the Winter Haven area to a processing plant in the city. Many of the canals were first dug by hand but later various forms of machinery were used to dig them. However, before all the canals were dug grove owners began to move their harvest to the plant by truck. The canals then came under the control of a private group of citizens who wanted to promote water sports in the area. They, though, found out rather quickly that they simply could not continue to develop and take care of the canals. The development and care of the canals then passed to the state who continues to take care of them today.
The cruise begins at Harborside Restaurant which is located on
Lake Shipp. Yup, they really do put out garbage cans hoping for those on the water to actually use them.
We then entered our first canal heading toward Lake May.
While on Lake May we passed
one of many different types of birds that call these lakes home.
We headed next to Lake Howard.
On the canal leading to the lake is Tanners Restaurant which offers a pick up window on the water!
Moving into the canal that would lead us from Lake Howard to Lake Canon
we would catch a glimpse first of this historic home on one bank,
and then this home on the opposite bank.
The two homes were interconnected by this bridge over the canal. We were told that the owners of each house would often throw lavish parties that included both houses. Guests, using the bridge, could move freely from house to house enjoying the best that each had to offer.
We then made our way viva different canals to Spring Lake and Lake Lulu and along the way we saw a little bit of this, and a little bit of that.
Finally, we headed into the canal for the largest of the lakes, Lake Eloise
It is definitely a good size lake! And it's main attraction is. . .
Anyone recognize this? This was Cypress Gardens. Prior to Walt Disney World opening in 1971 this was Florida's top tourist attraction. It opened in 1936 but finally closed in 2009. However, it is estimated that during that time 45 million people visited it.
Today it is owned by Legoland Florida and they have brought back the original Cypress Garden water show.
As we went pass they were in the process of preparing the fireworks for that night's performance. Sure wish we could have come back but time did not permit.
The Lake Cruise lasted a full two hours and if you are ever in this areal I would recommend taking the time to sign up for one of their cruises. It was a great way to spend the morning. We were together as a family. We had a picture perfect day. It was just awesome in every way. Some day we will go back for a sunset cruise.
So that is where we are at on The Road of Retirement. Our days have been, and continue to be, full and rewarding. There is always just enough to do each day to keep us from growing old. But not enough to overwhelm us. Remember the moto of the retired Never do today what you can put off until tomorrow! God bless.
Thanks for taking the time to read our blog.  We always appreciate your company, your comments, and your suggestions. Remember, take time to stop and smell the roses and live each day that God gives you to the fullest.