Home Is Where We Park It:  Whispering Hills RV Park, Georgetown, KY
June 28, 2019
Temperature 94 degrees
Getting Caught Up – Highlights from Nashville
I believe we have just about witnessed it all in terms of weather so far this year.  In New Orleans it was always in the 90's with high humidity.  Then we began to move north and the temperatures dropped to a very comfortable 70 something with no humidity.  Then as we continued to move further north came the storms, the thunder, lightening and gusting winds.  We had days of rain off and on, day and night.  As of now we are back in the 90 plus category with clear skies.  The only thing we have not had, thankfully, is snow!  This is, indeed, a most interesting life.
Blog posts, suffice to say I am literally months behind.  Too many places visited, too many pictures to sort through.  Now, however, I'm going to put my mind to getting caught up.  I'll try to share with you some of the more interesting places that we've visited over the last couple of months.  Today we are going to begin with Nashville.  As we tour Nashville I'll try to highlight some of the more interesting stops that were on our Trolley Tour.
So let's get started on our tour of Nashville.  The first stop on our tour will be the current Hard Rock Cafe.  Originally, it was home to the Silver Dollar Saloon.  It got its name for the hundreds of silver dollars used as decorations on the walls and in the floor.  Yes, some of them are still there.
Next up is West Riverfront Park.  This park includes trails, an ornamental garden, swings for adults as well as kids, and a downtown dog park.  It's also home to the sculpture Light Meander, it's curves meant to reflect the Cumberland River as it winds its way through the area around Nashville.
This is Riverfront Station which was constructed in 1902.  In 2006 it underwent a total renovation and now serves as a hub for the Music City Star Regional Train System.
This is Lower Broadway which is also known as Honky-Tonky Row.  It's filled with bars and bands, western wear shops and restaurants.  It literally throbs to the beat of country music.  Don't like what you hear?  Just move a few feet and you'll be listening to a different performer and a different band.
Two of the more famous stores/bars are, first, Tootsie's Orchid Lounge which is located across the street from the above record shop.  Purchased in 1960 by Tootsie Bess it was originally called Mom's.  The name change came about when a thrifty painter mixed the remnants of several cans of paint for the outer walls, thus giving the building its orchid hue.  It's owner was best known for her generosity always trying to help out struggling performers by slipping five and ten dollar bills into their pockets.
Many now famous performers such as Patsy Cline, Willie Nelson, Johnny Cash and others after performing at the Ryman Auditorium (the brick building to the left) would walk across the back alley and enter Tootsies for impromptu performances.  This was their way of repaying her for her generosity.
The second famous stop on Honkey Tonkey Row would be Nudie's Honky Tonk.  It has a bar 100 feet in length and it resides in a 100 year old historic three story building housing millions of dollars of rare country music memorabilia, stage costumes, multiple bars, two stages and a stunning rooftop deck for live performances. 
Nudie Cohn was a Ukrainian born tailor who became famous in America for designing elaborate outfits for some of the most famous celebrities of his era.  The story goes that Johnny Cash once ordered nine suits before he went on tour one year.  Nudie delivered all nine in black.  Cash protested but there was no time for new suits.  Well, the rest is history.  Cash became known as the man in black
This is where history was made in downtown Nashville.  Sit-ins were held here designed to end racial segregation at lunch counters in Nashville.  After four months of non-violent demonstrations on May 10,1960 six downtown stores began serving African-American customers at their lunch counters for the first time.  Sit-ins, pickets, and protests against other segregated facilities continued in Nashville until passage of the Civil Rights Act of 1964
Across from the Country Music Hall of Fame (which I'll cover in another blog) is the Music City Walk of Fame.  It was established in 2016 and gives recognition to all musicians regardless of the type of music they are associated with who have made significant contributions to the music industry in connection to Music City.
The Ryman Auditorium often referred to as the Mother Church of Country Music.  Once known as the Union Gospel Tabernacle it was renamed in 1904 in honor of Tom Ryman who provided the major funding for the Tabernacle.  It was home to the Grand Ole Opry from 1943 to 1974.  After the Opry left it fell into decline and was scheduled for demolition .  It was saved from the wrecking ball by Emmyloiu Harris and her band The Nash Ramblers who recorded At the Ryman which revived interest in its preservation.  An initial renovation took place in 1994.  In 2015 it underwent a $14 million expansion and was declared a National Historical Landmark.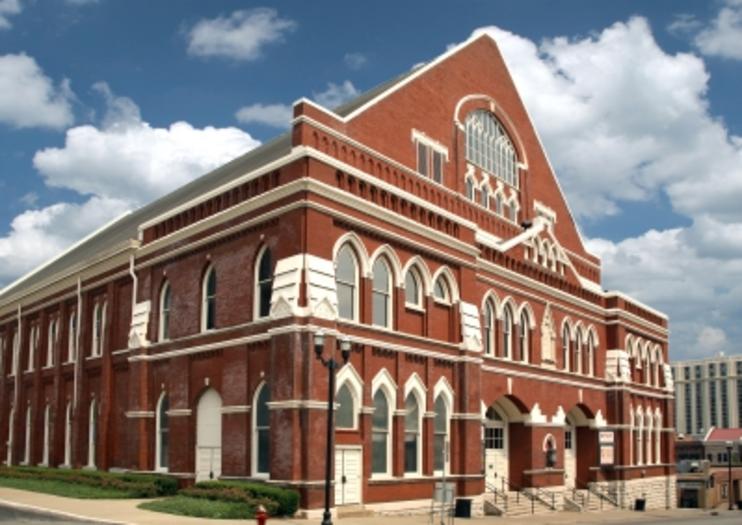 It was here that Bluegrass music was born.
The Johnny Cash Museum.  Born J.R. Cash (no first name) he became Johnny when he enlisted in the military and was required to have a first name.  His career spanned decades.  He was an accomplished songwriter and performer.  He starred in movies and television series, and he even had his own show.  The museum consists of the largest collection of Johnny Cash memorabilia in the country, including every guitar he played from the first as a child to the last on stage.
This is a statue of Chet Atkins a vocalist, songwriter and record producer.  He helped develop what is now known as the Nashville Sound.  The empty stool beside him is there it is said to encourage other musicians to join him and perform.
These are The Rivers of Tennessee Fountains.  There is a fountain, a total of thirty-one, representing each of the thirty one major rivers and waterways within the state.
This is called The Pathway of History.  This is just one small part of the wall.  Etched into the granite which stretches for block upon block are facts, quotes, and stories covering more than one billion years worth of history for what is now known as the state of Tennessee.
This globe weighs nine tons and floats on one-eight inch of water.  It can be turned by hand.  It shows all the battlefields were Tennesseans fought and died.
This is Marathon Motor Works which was originally the Nashville Cotton Mill.  It is an adaptive reuse project that has been in existence since 1960.  It currently houses two distilleries, a winery, a candy company, clothing retailers, a tattoo parlor, jewelers, art galleries and it is the home of American Pickers.
Main entrance into the complex.
American Pickers.
We now move to Music Row.  Though closed now, this was the site where that famous song Red Solo Cup was written.
This is the recording studio where the soundtrack for the movie O Brother Where Art Thou was recorded. The building was originally a church so the spacious old wood interior lends a unique sound to recording.
Jays's Place one of the few recording studio's with an open door policy.  If you step inside it is said that Jay will show you how a recording studio works.  The sign in front was created by Shel Silverstein who also wrote the hit Johnny Cash song, A Boy Named Sue.
The current recording studio for Garth Brooks.
This studio was founded by Mike Curb and Sammy Davis Jr., Hank Williams, and Lee Ann Rimes have recorded hits here.
This was way, way back the Addison Avenue Cumberland Presbyterian Church.  It remained a church until the mid 1950's, and then many years later it was bought by Zac Brown and became their Nashville Recording Studio.
This is the Parthenon which was constructed in 1897 for the Tennessee Centennial Exposition to pay homage to Athen's pinnacle of classic architecture.  Not intended to be permanent it was first constructed almost completely of plaster.  However, it proved to be such a hit with residents and visitors alike that in 1920 it was rebuilt on the same foundation but time out of concrete.  The exterior was finished in 1925 and the interior was finished in 1931.
However, until 1990 there was one glaring omission – no Athena!  She's there now, standing 42 feet tall.  Once she was just all white but in 2002 she was gilded and painted with more than eight pounds of 23.75 carat gold.
This is called Musica and was crafted in 2003.  It is supposed to symbolically  represent dance and racial harmony.  Not everyone was pleased with it, however, so much so that many came out at night to cover certain parts of each statue with white sheets.  One of its nicknames thus became the diaper statue.
There is so much more that I could include.  But time and space will not allow it.  Hopefully, though, I've peeked your curiosity enough that one day you too will tour Nashville.  Take a tour, then lace up your walking shoes and get out and go.  We want to come back some day and do just that, just walk, and walk, and walk some more.  It's the only way to really get to know and to soak up the unique character of Nashville.  It's a fantastic city with a lot to offer.
Our day on The Road of Retirement has come to a close.  In addition to the blog several other must do's were completed.  We got caught up on our laundry.  I was finally able to get the replacement part I needed to fix the kitchen faucet.  We picked up our mail and sent a package out via UPS.  All in all we accomplished a lot and felt good about it.  Time now to say goodnight.
Thanks again for joining us.  Have a good night.  We'll catch you tomorrow.
These are the voyages of  Graybeard and it's occupants, four paws and two humans.  Our continuing mission: to explore as many new states as possible, to seek out new acquaintances and make new friends, to boldly go where we have not been before
See you on down the road!